How to Convert CR2 to JPG
If you are the lucky owner of a professional-grade camera, you're going to face the issue of opening and working with RAW files. Depending on the camera manufacturer, your files may use different names and extensions, one of the most popular being CR2.
Unfortunately, not all devices, websites, or programs support CR2 files. If you want to view, store, and share your CR2 pictures correctly, you will probably need to convert them to a more common format, like JPG (JPEG).
Here are some of the issues you may face while working with CR2 files.
Your device can't open a file
It may be that your device just doesn't recognize the file type. In this case, try using this special software and convert your file to another format.
Can't share photos in social networks?
Not all image formats are suitable for sharing. Most social networks don't support CR2, so if you want to share these pictures, you'll need to convert them to another format first.
Files are too large
Due to the fact that RAW pictures store all the information from the camera's sensor, they are usually large and take up a lot of space. This problem can also be solved by converting your files to a different format.
CR2 a special format used by Canon cameras. CR2 images retain all the information recorded by the camera's sensor, which makes for large files that are not easy to work with.
JPG is one of the most popular raster graphic formats used for storing photo images. JPG files are usually quite small while retaining a relatively high image quality. It's also supported by most devices and websites.
So, once you've decided to change the format of your CR2 files, you'll see there are several ways to do this. In this guide, we'll cover two ways to convert CR2 to JPEG: a powerful desktop app and an online tool. We'll compare these two formats.
How to Convert CR2 to JPG with the Movavi Converter
The easiest way to convert your files is to use Movavi Video Converter. This powerful software can quickly and accurately convert all of your photos from CR2 to JPG without losing the quality of the original pictures. The fast batch conversion process is ideal for bulk photo transfers.
Download the Movavi converter for Windows or Mac now and follow this easy step-by-step tutorial on how to convert CR2 to JPG.
Download and Install Movavi Video Converter
Download the CR2-to-JPG converter from our website. Open the downloaded file and follow the instructions.
Add Your Files
Click the Add Media button, then Add Images and choose the CR2 photos you want to convert. You can easily add multiple pictures at the same time.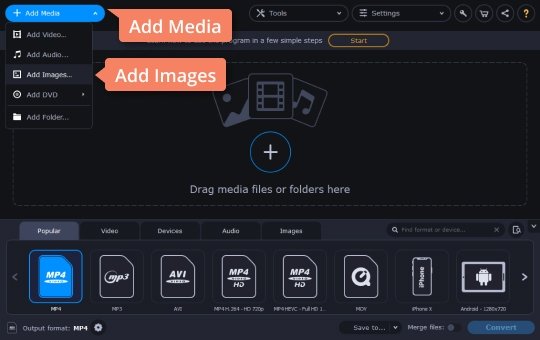 Choose the Image Format
To convert an image from CR2 to JPEG, open the Images tab and choose JPG. Click the Cogwheel button to adjust the picture size, if necessary.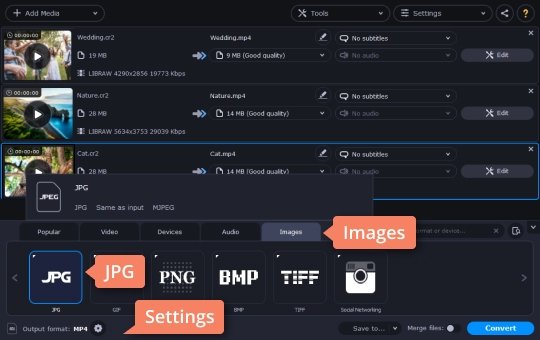 Adjust and Crop Your Pictures (Optional)
This step is useful if you want to edit your photos before exporting. To do this, click the Edit button next to the file in the list on the right side of the interface.
In the window that opens, select the tools you want to use. Choose the Adjustments tab to change brightness, contrast, hue, and saturation to your liking. Click Apply to save changes.
If you want to emphasize certain elements of the photo, click the Crop tab and you will be able to select and crop a specific area. When you're finished editing, click Done.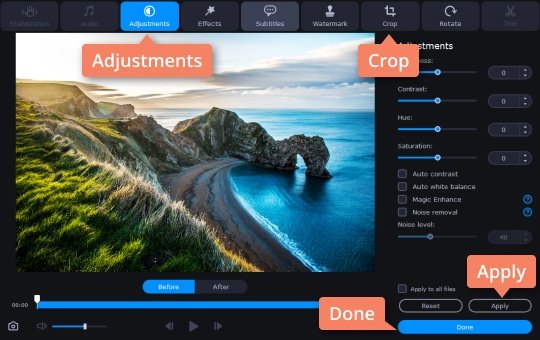 Convert the Files from CR2 to JPG
To convert your CR2 files, click the Save to button and specify the export folder, then click Convert. After the program has finished converting, the folder containing your files will open automatically.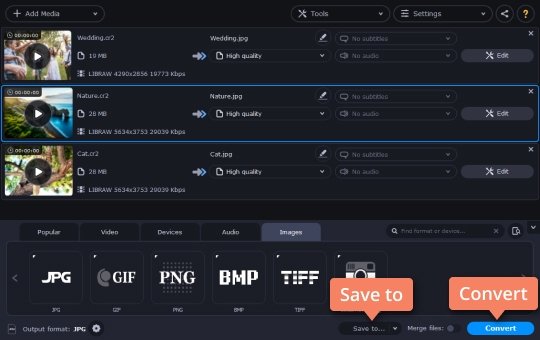 Now you know how to convert large CR2 files to turn them into smaller and more usable JPG files. This format provides easy viewing, editing, and printing of your photographs which makes it the best choice for converting high-quality CR2 photos. Movavi Video Converter is one of the fastest multimedia converting apps for PC and Mac. Download it now and see what it can do for you!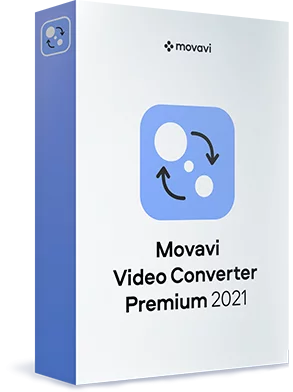 Movavi Video Converter
The ideal way to get your media in the format you need!
Convert video, audio, DVDs, and image files

Enjoy lightning-fast conversion without quality loss

Improve quality, adjust sound, trim and join files before converting

Save video and audio clips for easy mobile access
How to Convert CR2 to JPG Free and Online
Another way to transform your images is to use a free and online CR2-to-JPG converter like iloveimg.com. Although this service supports quite a lot of input and output formats, it also has some limitations. There is a mass conversion option but if you're an unregistered user, you can only convert files no larger than 130 MB. With registration, this limit rises to 200 MB. It's possible to raise the limit up to 5 GB, but you'll have to pay for that. Also, it takes quite a long time to convert large CR2 files using iLoveIMG, so if you're in a hurry, you may want a faster option.
To convert CR2 to JPG using iLoveIMG, do the following.
Go to the website and choose Convert to JPG.
Click Select images to choose the files for conversion.
Click Convert to JPG and wait till the process is over.
When your files have been converted, they will automatically be downloaded to your computer. You can also save the result to Google Drive or Dropbox.
CR2 vs. JPG – Comparing Formats
Let's compare CR2 and JPG. First, it should be noted that CR2 files are basically pictures that preserve most of the information from the camera sensor without any processing, which gives you the option to edit even damaged photos. However, these files aren't easily shared or printed, as many devices don't support them.
JPG, on the other hand, is one of the most popular image formats. Although JPG doesn't support lossless compression, it still retains a pretty good image quality. Another significant difference is the file size. An archive of CR2 photos can take up a lot of space, so it's much more practical to save your memories in JPG.
| Comparison parameter | CR2 | JPG |
| --- | --- | --- |
| File extension | .cr2 | .jpg, .jpeg, .jif, .jpe, and others |
| File size | Large | Small |
| Сompression | Lossless | Lossy |
| Transparency support (Alpha channel) | No | No |
Frequently Asked Questions
The answer depends on your needs. If you are interested in high quality images, RAW will be better because it works without compression, so there will be no quality loss. JPEG images are compressed, so they may look a bit lower quality in high resolution. But if your key photo parameters are low size and speed of taking pictures, consider using JPEG.
Is It OK to Shoot in JPEG?
Of course. If you don't need the highest quality, JPEG will do. There are several advantages in JPEG shooting: you save your camera's battery, photos don't take up much space so you can take more shots and are less likely to miss amazing moments because you need to delete unnecessary files or swap memory cards. A smaller picture size also means that you can process the files more quickly, even on older computers.
How to Convert RAW Images to JPEG
To convert your files with minimal quality loss, it is worthwhile using special software. Try Movavi Video Converter. It can process images as well as video and audio. Check out this guide on how to perform RAW-to-JPEG conversion:
Why Does JPEG Look Better than CR2?
This is because of the automatic image processing that every camera performs on images. It changes saturation, contrast, sharpening, and other image options. RAW files don't have any additional enhancement – they show the image 'as is', so you can enhance your photo as you wish.
What File Format Do Professional Photographers Use?
Photographers use many different formats: RAW, JPEG, TIFF, BMP, DNG, PNG, and more. RAW has many names – every manufacturer has a different name for the format: Canon has CR2, Nikon has NEF, Sony has ARW. All these files are actually RAW files, and the main advantage of RAW files is the high quality of images received. As for JPEG, it is one of the most widely used formats and is supported by almost all devices, so professionals will share their creations with their clients in JPEG. So, JPEG and RAW are the first choice for formats.
See Other Useful How-to Guides