How to Choose an MPG-to-MP4 Converter
MPEG is a popular standard for video compression. It provides high compression ratios without significant loss of video quality. The most popular file extensions for this standard include .mpg (.mpeg) and .mp4. MPG videos are compressed with MPEG-1 or MPEG-2 video codecs. MP4 is based on the more recent MPEG-4 standard, which is one of the newest video formats in wide use for storing video on computers and mobile devices.
To be sure that your video will play on your smartphone or portable media player, it is best to convert the file to a widely supported format, such as MP4. Read the guide below to learn about two ways to convert files from MPG to MP4 and the differences between the two formats: with a desktop app and with a video converter online. You will also find answers to frequently asked questions on this topic.
How to Convert MPG to MP4 with Movavi Video Converter
The first option to change the format of a video is to use conversion software. With Movavi Video Converter, you can convert both MPEG to MP4 and MP4 to MPEG. This converter for Windows or Mac supports all popular video and audio formats, including AVI, FLV, 3GP, and MP3. The program also supports batch conversion. You can even edit your videos before converting – rotate and flip clips, add watermarks and subtitles, crop and trim unwanted parts, and more.
Wondering how to convert MPEG to MP4? Just follow the simple steps below.
Install the MPEG-to-MP4 Converter
Download the video converter setup file from Movavi's website. After the download is complete, follow the instructions to install the software.
Add Videos for Conversion
Click the Add Media button, then Add Video and select the videos in the MPG format that you want to convert to MP4.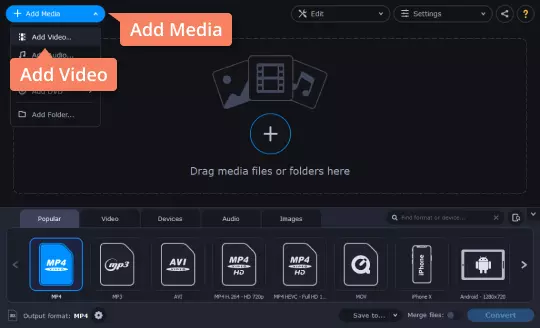 Specify the Output Video Format
Open the Video tab. Select the MP4 preset group, then one of the MP4 presets. If you are converting video for a specific mobile device, you can select that particular device by clicking Devices. You can also let the program suggest the right preset for your device – simply connect the device to your system and hit the Cell Phone icon on the right.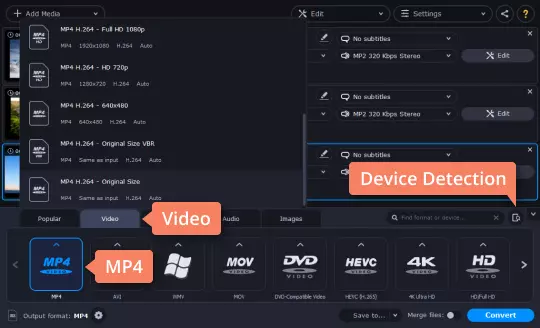 Start Converting MPG to MP4
Specify the folder where you would like to store the converted video files by clicking the Save to button. Now all you need to do is click Convert and wait for the process to finish.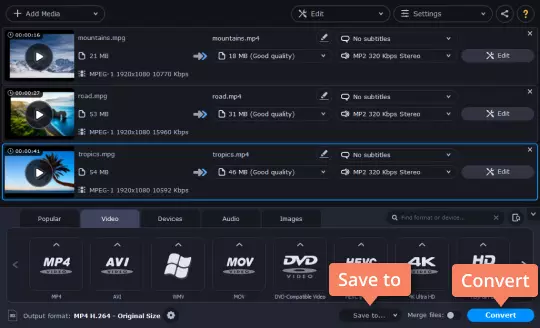 Upload Converted Videos to Your Mobile Device (Optional)
After the conversion from MPG to MP4 is complete, your videos are ready for storing on a computer or uploading to a mobile device. To transfer video to your mobile device, turn the device on and attach it to your computer. Start the uploader software on your device and follow the on-screen instructions.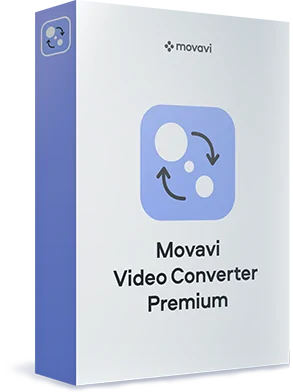 Movavi Video Converter
The ideal way to get your media in the format you need!
Convert video, audio, DVDs, and image files

Enjoy lightning-fast conversion without quality loss

Improve quality, adjust sound, trim and join files before converting

Save video and audio clips for easy mobile access
How to Use an MPEG-to-MP4 Converter Online
Another way to convert MPG to MP4 is to use an online conversion service, such as videoconverter.com. This easy-to-use converter lets you convert MPG to MP4 online in just a few minutes. If you want to convert a video only once and don't need any additional features, this is a good option. The online conversion tool has some downsides, though – you cannot edit or compress your videos, only one video at a time can be converted, and the file size is limited.
Open the website and click the Add Your Media button in the top-right part of the screen. Next, choose the file and click Convert. Wait until the process of conversion is complete, and then hit the Download button to save the converted video on your computer.
MPEG vs. MP4 Comparison Table
MP4 vs. MPEG (MPG): what are the main differences? MPEG is commonly used for storing videos on DVDs. Unlike MP4, MPEG is not supported by most mobile devices or media players. MP4 uses more recent video-encoding standards and is widely used for watching videos on mobile devices and sharing clips over the Internet.
| Comparison Parameter | MPG | MP4 |
| --- | --- | --- |
| File extension | .mpg, .mpeg, others | .mp4 |
| Video-coding formats | MPEG-1, MPEG-2 | MPEG-4, H.264, H.265, others |
| Audio-coding formats | MP3 | MP3, AAC, AC-3, others |
| Streaming | | |
| Chapters | | |
Frequently Asked Questions
Is MPEG the Same as MP4?
Both MPEG and MP4 are container formats for storing video and audio content, but there are some differences. For example, they use different video codecs. The MPEG format uses MPEG-1 or MPEG-2. MP4 files are compressed with MPEG-4, H.264, H.265, or other video codecs.
What Is the Difference between MPG and MPEG?
MPEG is the name of a video format developed by Moving Picture Expert Group. Since some file systems didn't support file extensions of more than 3 characters, the name was shortened to MPG. So, there is no difference between the two abbreviations; MPG is just a shorter name for the MPEG format.
Which Is Better: MPEG or MP4?
MPEG files are compressed with the MPEG-1 or MPEG-2 codecs and are mainly used for storing videos on CDs and DVDs. You can play MPEG files on your computer, but not all players support this format.
MP4 files use codecs like MPEG-4 and H.264 that are supported by almost any player. So, if you want to watch a video on your computer and your mobile device, MP4 is your best choice.
Is MP4 High Quality?
Video quality depends on the codecs used for compression. The MP4 format supports efficient coding algorithms that provide high-quality video in a relatively small file size.
How Do I Convert MPEG to MP4 on a Mac?
You can convert MPEG to MP4 using Movavi Video Converter for Mac – just follow the steps below.
Download the installation file. Go through the installation process and launch the program.
Click Add Media and choose Add Video. Select the files for conversion.
Open the Video tab, select MP4, and pick the desired preset.
Hit Convert.
See Other Useful How-to Guides