How to Make a WebM-to-MP3 or MP3-to-WebM Conversion
Audio files on websites and devices are stored in different "containers". Each of these containers has its pros and cons, as do the MP3 and WebM formats. MP3 is one of the most widely used formats; almost every player or website is able to process it. But it was introduced more than 25 years ago, so now the format is quite old.
WebM is much more technologically advanced than MP3. It is basically a container for both audio and video, but the audio part can function independently, and it provides a better quality of sound than MP3. The disadvantage of WebM is that it is not widely supported, so you may need to convert WebM to MP3 or MP3 to WebM, depending on whether quality or widespread support is your priority.
In this article, we'll show you how to convert between WebM and MP3 using Movavi software, and we'll also review the difference between the formats.
How to Convert WebM to MP3 and Vice Versa
So, let's imagine that you have a file with a .webm extension and want to change it to .mp3. You'll need a WebM-to-MP3 converter, and Movavi's software is just the thing! It is available both for Mac and Windows, so you can convert WebM to MP3 or the reverse with no system restrictions.
Let's start converting. Download Movavi Video Converter and follow the steps below.
Install Movavi Video Converter
After downloading is complete, you'll get an installation file. Launch it and go through the installation process following the on-screen instructions.
Run the Program and Add Your Files
Launch the converter. In the main window, choose Add Media. What you do next depends on what you need to convert. If the source file is WebM, select Add Video, and for MP3 – Add Audio. You can convert several files at once if necessary – just select all the files required and hit Open.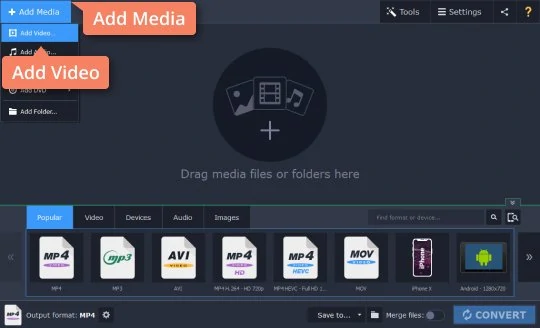 Choose the Resulting Format
After you've added everything you want, look at the tabs at the bottom of the main converter window. Choose the tab related to your output format. If it is MP3, go to the Audio tab, and if you want to convert MP3 to WebM, hit the Video tab. Select the option (MP3 or WebM) and then click the preset that suits you best. The title will appear below the preset list.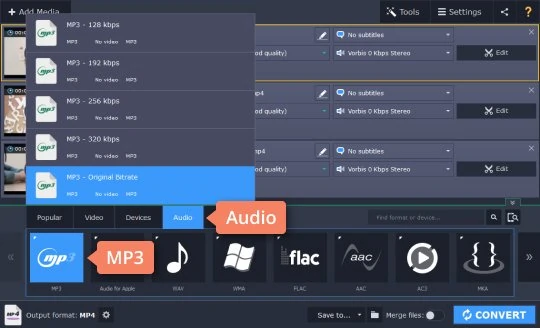 Get the WebM-to-MP3 (and Back) Conversion Done
Click the Folder button and choose where to store the file, then click Convert. The conversion will start immediately, and in a few seconds you'll get your WebMs or MP3s ready to rock!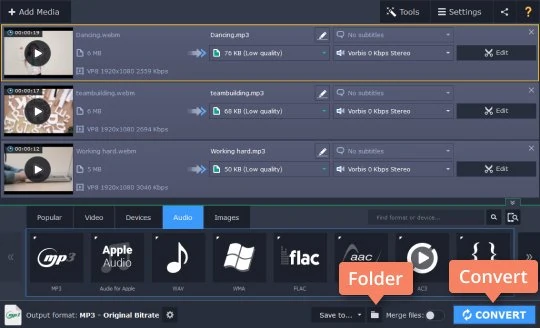 As you can see, Movavi Video Converter is very easy to work with, even for an inexperienced user. Additionally, Movavi software is a powerful tool which can process audio, video, and image files with ease and great speed.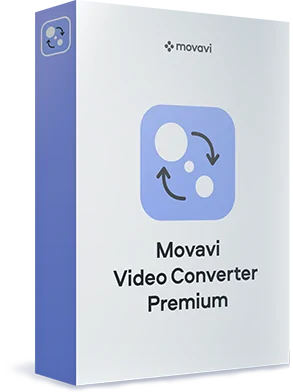 Movavi Video Converter
The ideal way to get your media in the format you need!
Convert video, audio, DVDs, and image files

Enjoy lightning-fast conversion without quality loss

Improve quality, adjust sound, trim and join files before converting

Save video and audio clips for easy mobile access
WebM vs. MP3: What to Choose
Here, we are going to compare the technical characteristics of MP3 and WebM for sound storage purposes. These formats are completely different. We have created a small table for WebM vs. MP3 to show the differences and help you decide which option to choose in different cases.
| Comparison parameter | WebM | MP3 |
| --- | --- | --- |
| Introduced | 2010 | 1993 |
| Video codec | VP8, VP9 | No video |
| Audio codec | Vorbis, Opus | MPEG-1, 2 Audio Layer III |
| Channels | Up to 255 | Up to 2 |
| Bitrate | Up to 1000 kbps | Up to 320 kbps |
| Supported | Google Chrome, Chromium, Maxthon, Microsoft Edge, Mozilla Firefox, Opera, Vivaldi, Media Player Classic, MPlayer, VLC | Almost all browsers and mobile devices |
One cannot definitely conclude which format is better. WebM provides a better quality but works only with the latest browsers and programs. MP3 can be played by almost everything but the sound itself is worse. The choice depends only on your needs, and if you change your mind, the Movavi Converter will always help to change your files too.
See Other Useful How-to Guides