How to Become the Best Tutorial Video Maker: the 10 Best Tips
In this article, you'll find useful tips on creating a tutorial and a step-by-step guide to making a video tutorial using a screen recorder.
Video tutorials are among the most effective ways to teach and communicate important information. The most sought-after types of instructional video on the internet are videos on how to undertake a real-world task through the use of visual, textual, and audio presentations.
One of the most effective ways people learn how to do something is if they see or hear someone doing it, particularly when that person is demonstrating something in a step-by-step manner. Video tutorials can help people learn how to operate sewing machines, construct houses, fly kites, paint houses, build skateboards, assemble airplanes, play golf, and many other activities. There is really no other way you can find so much information at one time.
If you've ever thought about trying to create videos for anything, it would be a good idea to learn how to make a video tutorial. Video tutorials are great teaching tools, as they enable you to present lessons in a way that is easy to understand and engaging for audiences. You don't have to be a professional photographer to make great video clips. All you need to have is enough knowledge on whatever topic you're presenting, a little bit of computer expertise and creativity, and the tools to produce high quality video clips. In fact, some of the best instructional video clips on the internet were created using only digital cameras, basic editing software, patience, and a desire to communicate information.
Here are some basic guidelines for how to make tutorial videos.
Know your audience. Ask yourself who is going to watch your video. Imagine a typical viewer and try to understand their needs, problems, preferences. Why do they need a video guide? What's the task they're trying to accomplish? Answering these questions will help you to define a topic, terminology and content format.
Choose the topic. It is best to focus on a topic you're passionate about. Your passion will help you to create interesting content for your audience and keep your viewers engaged.
Collect more information. Even if you think you know everything about your topic, check the latest articles and research. If you don't update your knowledge, someone will notice this and may damage your reputation.
Talk to others. If you have friends or colleagues who already have experience of making tutorials, ask them to share their experience with you. They've already made mistakes and faced challenges that you can avoid.
Practice before recording. Write down everything you plan to cover in your tutorial video. You can write a script to follow while recording the video. Make sure to read everything you plan to talk about out loud ahead of time.
Keep it simple. Give basic instructions that all your viewers will understand. Try not to provide too much information at one time, or you may lose your viewers to confusion or boredom.
Keep it short. Don't make your tutorial too long: if the topic you're talking about is complex, create separate videos on different aspects of the topic. It's easier to watch a few short videos all the way through than get through one long one.
Make your videos interactive. While editing videos, think about how to make them more engaging. Maybe you could add some quizzes or tests that will help your audience check their knowledge.
Upload to the appropriate platforms. Understand where your audience goes to look for information. Is it YouTube or Vimeo? Or maybe you need to upload the materials to an LMS? Think about it and be sure to choose the most suitable format for exporting your video.
Get feedback. If you really want to improve your educational videos, you need to learn what people think about them. How will you collect feedback? Think about it in advance and give users the opportunity to leave reviews.
If you're planning to include your video tutorials in an online course, we recommend checking the Sell Courses Online website. This platform provides useful information for online content creators. Follow the link below to learn how to create and sell online courses.
Proceed to the Sell Courses Online website
These are the basic rules for how to make an explainer video. There is one more thing to consider – what software to use to record and edit your tutorial. Let's us introduce you to the tutorial video maker.
How to Use Video Tutorial Software
Video editing software makes it possible for users to create short step-by-step tutorials without the need for additional equipment. You can easily record your video with the software, edit the resulting footage, and produce a high-quality tutorial video that can be used on a variety of different platforms. You can also edit the videos according to your preference, adding captions, titles, music, and photos if you like.
Movavi has great training video software to help create instructional videos on all sorts of computer-related topics like digital painting, using applications and web services, and much more! Screen Recorder + Movavi Video Editor combines an all-purpose screen video capture program with a powerful yet easy-to-use video editor – plus a huge number of quick export settings to optimize your recordings for specific mobile devices or for sharing online.
Download Movavi Screen Recorder + Movavi Video Editor and find out how to create a tutorial in just a few easy steps.
Step 1. Install the Tutorial Video Maker
After downloading the installation package, open it and install the video tutorial software on your computer following the guidelines on your screen. After the installation is complete, click the Start button in the installation window to launch the program.
Step 2. Adjust the Recording Settings
After the tutorial creator opens, you'll see all the available options in the launcher window. If you're creating a software video guide or other computer-related tutorial, choose Record screen to start the screen capture process. If you don't want screen footage for your tutorial, skip this step and go to Step 3 to learn how to record webcam video and import footage from other sources.
To start capturing your screen, move the capture frame over the area of the screen you want to record. Adjust the frame size by pulling on its edges until it's positioned correctly. You can do even more to make your tutorial extra-clear: record audio commentary or webcam footage during the screen video capture, use the built-in visual and sound effects to emphasize cursor and mouse clicks, and even capture keyboard actions.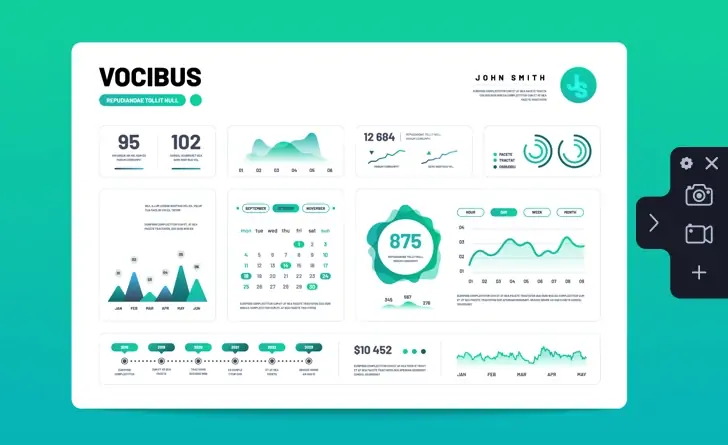 Step 3. Record Footage for Your Tutorial
To start the video recording, click the REC button. If you use Windows, you can also start capturing the screen by pressing F10 on your keyboard. Pressing F10 again will stop the capture. To do the same on a Mac, press ⌥ ⌘ 2.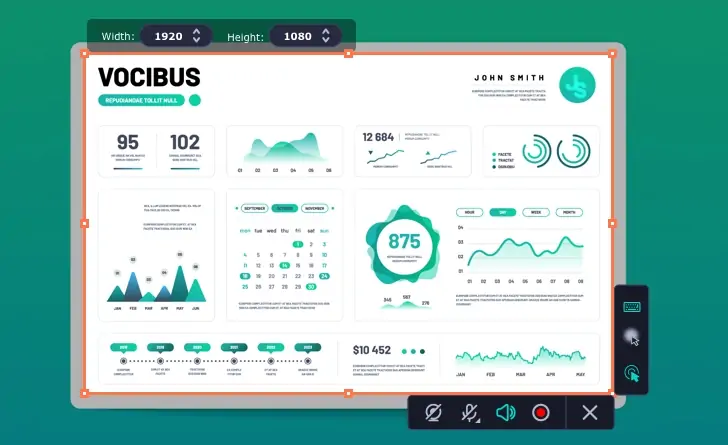 Step 4. Record Additional Video
After the program has finished recording, you'll see a preview window where you can review the resulting footage. Click the Open in Editor button to load your footage into the Video Editor; this is where you can add more content. If you haven't recorded screen footage, you can start the Video Editor directly from the launcher window by hitting Edit video.
To make a training video more personal and appealing to the audience, you can also capture webcam video. In the main window of the video editor, click the Record Video icon to open the capture module; the software will detect your built-in camera automatically. If you're using an external webcam, don't forget to connect it to the computer first!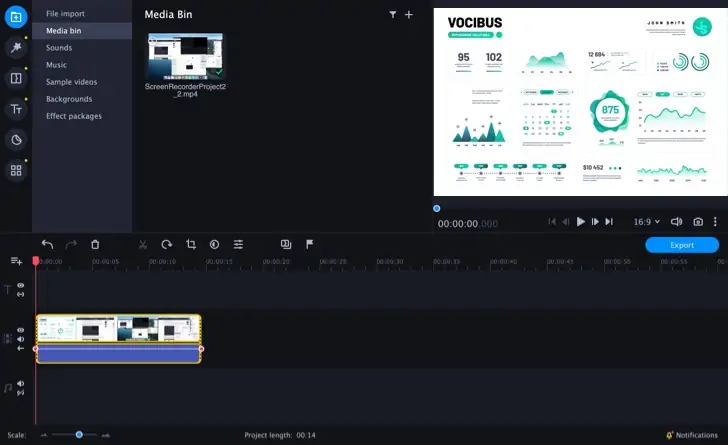 You will be able to see yourself in the preview window. Adjust the camera to find the best angle and click Start Capture. To finish recording, click Stop Capture – your file will be saved automatically. Click Back to editing to return to the video editing module and automatically add the recorded video on the timeline.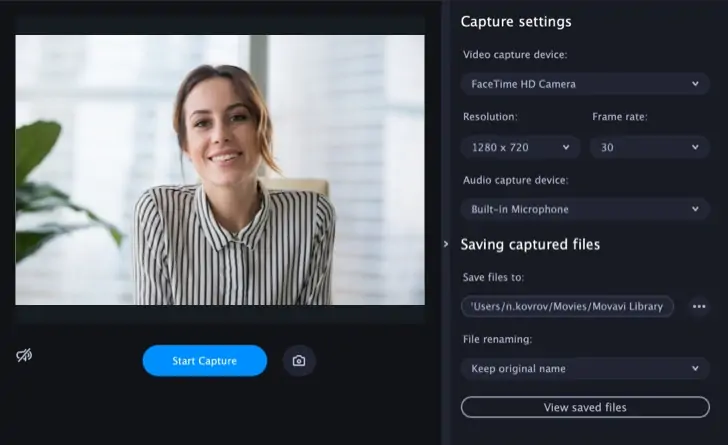 Now that you've added all the footage you want to use, it's time for the final tutorial creation! Turn your raw material into a professional-looking explainer video by editing it to perfection.
Here's what you can do:
improve the quality of your video using correction tools;
cut, trim, and merge files on the timeline;
use animated transitions to link different parts of your video;
apply special effects to make your video black and white, rotate images, etc.;
add background music and record your own voiceover commentary;
add titles, captions, and other text elements to your video tutorial.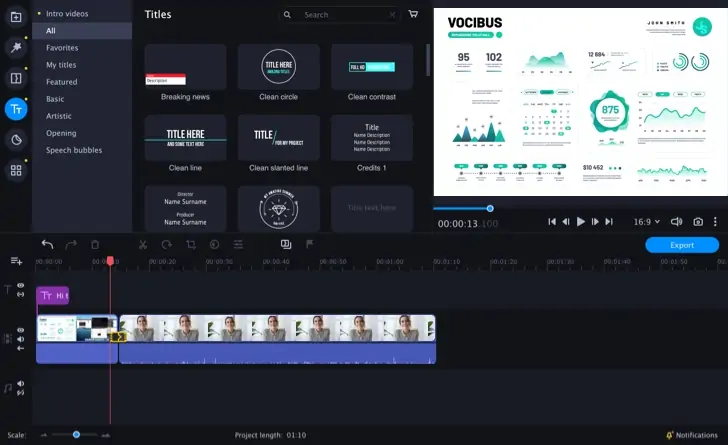 Step 6. Export the Tutorial
The final step is making your brand-new video tutorial available to the world. Click Export to see all the available options:
Save Video File will export the tutorial in the popular video format of your choice.
The Save for Devices option lets you optimize the video for playback on mobile platforms.
Use the Upload Online tab to easily share your video guide on YouTube, Vimeo, or Google Drive.
Done! Now you know how to make an instructional video with Movavi Screen Recorder + Movavi Video Editor.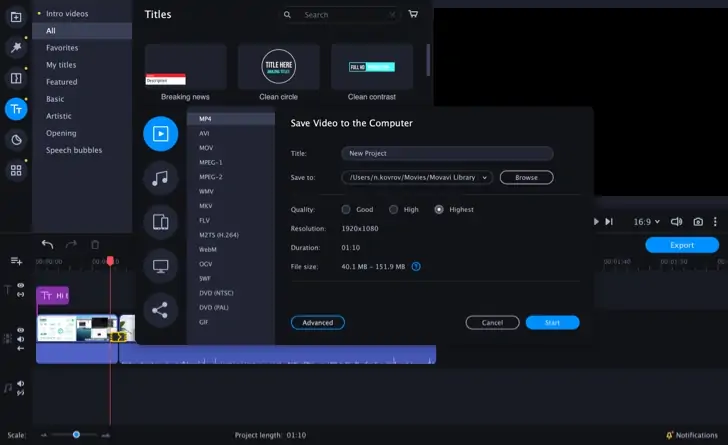 Frequently Asked Questions
How can I make a video tutorial for free?
To make a video guide, follow these steps.
Step 1. Install a trial version of software that enables you to make and edit high-quality videos.
Step 2. Record your tutorial if you haven't done so yet.
Step 3. Open the video in the video editing program. Trim it, add titles and transitions, apply special effects and edit background sounds.
Step 4. Save the tutorial in any convenient format or upload it to YouTube.
How long should a tutorial video be?
The length of the how-to video depends on the topic. Usually, educational video clips last from 5 to 10 minutes. If the tutorial is longer, there's a risk that people won't watch it to the end.
If the topic is complex and cannot be explained in 10 minutes, you can make a series of videos - which is even better for increasing your video blog popularity.
How to Record Your Screen on an iPhone?
Making a video guide is one of the hottest online jobs. With more people having access to a digital camera, the internet, and a laptop every day, learning how to make a video guide is now not just possible but easy. In other words, anyone with an internet connection can make a video tutorial and upload it to YouTube and other video sharing websites. So how do you become successful in this industry?
The answer is simple: offer reliable, high-quality video tutorials. Since the number of video tutorials on the web is increasing every day, competition among video guides is getting stiffer. A good video guide must be informative, easy-to-understand, and entertaining – all at the same time.
To ensure you have a clear and comprehensive video tutorial, make sure you provide quality information. As a rule, don't try to sell anything in your video. If you add links to your site or ask for donations, most likely users will delete your video immediately. Instead, offer useful tips, free downloads, and free courses - anything that will encourage them to click on your video.
Here are some basic tips to help you to make the perfect video tutorial.
Know your audience
Choose interesting topics
Collect useful information
Take expert advice to avoid common mistakes
Practice before making a video
Make the video simple and easy to understand
Make the video short
Consider including interactive elements in the video
Choose the right format and platform
Get feedback from your users and improve yourself
Don't forget to optimize your how-to video for search engines. If you have a good title and an effective introduction, you can easily rank high on search engines. It's also recommended that you add a "synopsis" paragraph at the end of every video. This way, viewers who find your video tutorial from a popular video site won't have to scroll down to read your summary. A video description, with a catchy title, is more likely to attract viewers.
Sign up for news and special offers