Many of us have encountered the problem of unsupported formats in media devices. The "Cannot play file" message that pops up when you try listening to your favorite song can be very irritating and disappointing. Windows Media Audio (WMA) files are quite often the reason for this disappointment because the WMA format is not commonly supported by portable devices and media players. What you can do is convert WMA to MP3 and have all your music in the MP3 format so that you can listen to it anywhere you like – on a media player, game console, or mobile phone with MP3 support. One more advantage of converting WMA to MP3 is that MP3 files can be somewhat smaller than WMA files, which saves a lot of space on your media player or hard drive.
How to сonvert WMA to MP3 with Movavi Video Converter for Windows and Mac
To change the format of your audio file, you just need the right kind of WMA-to-MP3 converter – like Movavi Video Converter for Windows and Mac. This software supports audio conversion between almost all known media files. It can also let you change WMA to MP3 and vice versa or extract soundtracks from your favorite movies – and a lot more.
Download and install Movavi Video Converter and check out this step-by-step tutorial on how to convert WMA to MP3 files.
Step 1. Install the software
Hit one of the WMA-to-MP3 converter download buttons above.
Once you've downloaded the software distribution package, open it to run the setup application and follow the instructions. When the installation is complete, the program will open automatically unless you've specified otherwise.
Step 2. Add your files to batch-convert WMA to MP3
Click Add Media in the top left corner of the program interface, then Add Audio and choose the files you want to convert from WMA to MP3. Thanks to the batch conversion support in the Movavi software, it's easy to transcode your favorite artists' entire discography in one pass!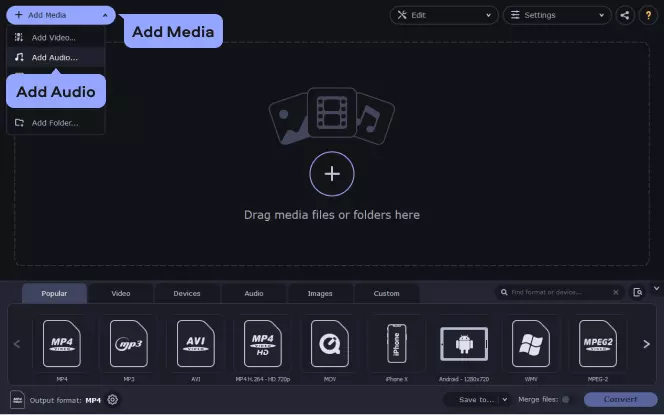 Step 3. Choose MP3 as the output file format
Open the Audio tab and expand the MP3 group. Choose the preset with the bitrate you want but keep in mind that a higher bitrate means a larger output file. If you're not sure which bitrate to choose, select MP3 – 256 kbps, which delivers reasonably good quality and an average file size.
If you wish, you can change the sound parameters by clicking the Cogwheel icon and adjusting the sample rate, bitrate, etc.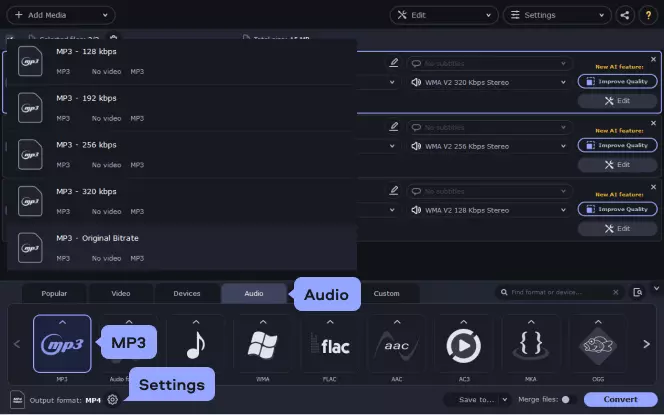 Step 4. Specify the destination folder and start converting your WMA files to MP3 files
By default, the output files are placed in the "Movavi Library" folder, but you can specify a different folder by clicking the Save to button. Once you've set the preset and output folder, click Convert.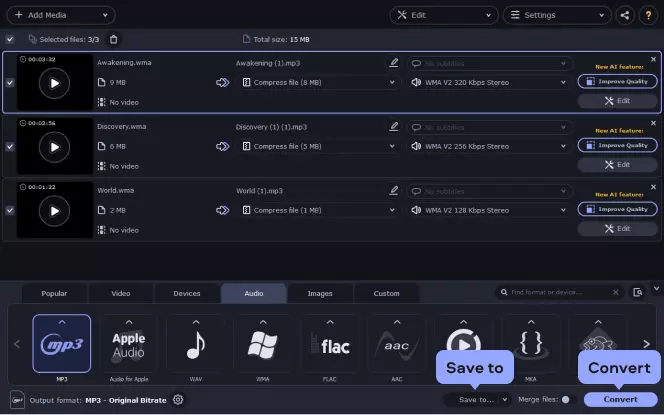 When the job is done, the folder with the converted files will open automatically. That's all there is to it! Now you can play them or transfer them to your plugged-in multimedia device right away.
The trial version of Movavi Video Converter enables you to convert WMA to MP3 for free. The program also lets you change the format of most other audio, video, and image files in seconds as well as perform some basic editing.
WMA vs. MP3: A comparison
WMA (short for "Windows Media Audio") is an audio file format developed and owned by Microsoft and, therefore, the number of devices supporting this format is very restricted. On the other hand, MP3 (also known as "MPEG-1 Audio Layer III" or "MPEG-2 Audio Layer III") is an industry standard recognized virtually everywhere, on almost any device, platform, and system. Technically speaking, the two formats are quite similar as both utilize lossy compression to eliminate non-essential bits of data to reduce the final file size. See the table below for a more detailed comparison of the formats – MP3 vs. WMA.
| Comparison parameter | WMA | MP3 |
| --- | --- | --- |
| File extension | .wma | .mp3 |
| File size | Relatively small | Relatively small |
| Audio codecs | Windows Media Audio | MPEG-1 / MPEG-2 Audio Layer III |
| Supported by | Windows-based devices | Windows, Mac, Linux; almost any device and program |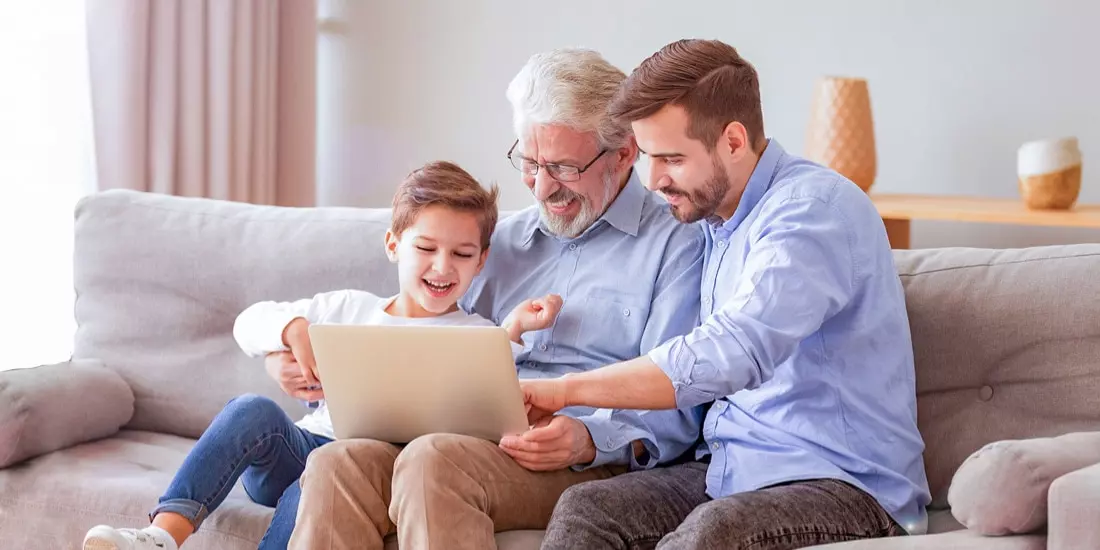 Movavi Video Converter
The ideal way to get your media in the format you need!
Frequently asked questions
What is a .wma file?
It's an audio file in the WMA format. WMA (Windows Media Audio) is an audio format developed by Microsoft as part of the Windows Media framework. ".wma" is the extension in which WMA files are stored.
How do I convert WMA to MP3 on Mac?
Use an WMA-to-MP3 converter for Mac, for example, Movavi Video Converter.
Install the app.
Drag and drop your WMA files into the program window.
Click the Audio tab below and choose MP3 as the output format.
Click the Convert button to convert the WMA files to MP3 on your Mac.
Is WMA better than MP3?
Compared with MP3, WMA files reportedly deliver better sound quality – but only in low bitrates. Otherwise, the WMA format has no discernible advantages over MP3. Remember that you can always change WMA to MP3 with the help of a media conversion app.
Can VLC convert WMA to MP3?
Yes, the VLC media player can be used as a free WMA-to-MP3 converter. To convert WMA to MP3 for free using this app, do the following.
Run VLC, select Media and then Convert/Save.
Click Add and browse for the WMA files for conversion.
Click Convert/Save below.
In another dialog box, select Convert and choose Audio – MP3 from the Profile drop-down list.
Specify a name for the MP3 file and click Start to launch the conversion process.
Are WMA files compressed?
Yes, the WMA format uses a lossy compression system.
Sign up for news and special offers