The convenience of being able to watch movies online, from anywhere, is second to none. One of those small comforts that makes life just that little bit more enjoyable. The problem is, sometimes you just don't have access to the internet. Whether you're traveling by plane, are a backseat passenger on a road trip, trying to use a tablet to entertain your kids at a restaurant, have a data limit, or a ton of other reasons, sometimes you just can't easily get online. That makes for something of an inconvenience when you want to catch a movie.
Fortunately, there are solutions, and in this article, we'll explore how to download movies for free so you can watch them whenever you please.
We'll walk you through screen recording with Movavi Screen Recorder, movie download software like BitTorrent, 4K Downloader, which is a free downloader app for PC, movie sites as well the most popular streaming platforms like Netflix, Hulu, and Amazon Prime.
How to Download Movies on your PC and Mac with Movavi Screen Recorder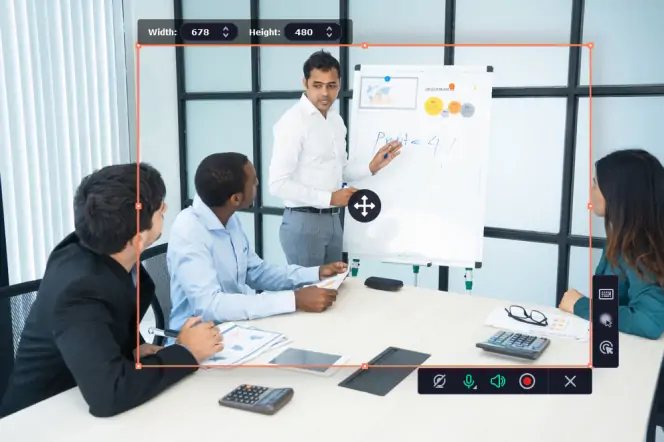 Best for: capturing movies and making quick edits
First of all, take a look at Movavi Screen Recorder, which helps you record the latest in cinematography to your PC. With this program, there's no need to hunt down the best way to download HD and MP4 movies. Movavi offers something that's more attractive than a simple free film downloader.
5 reasons to install Movavi Screen Recorder:
Available both for Windows and macOS
Supports a wide range of formats for saving the video, including AVI, MP4, MOV, MKV
Lets you customize recording settings
Allows you to edit the result and share it via YouTube or Movavi Cloud
Saves the recording for multiple devices: laptop, iPad, mobile phone
As for the downside of using this app, the free version has some limitations.
To learn how to download movies on your PC using Movavi Screen Recorder, follow the guide below.
Step 1. Download Movavi Screen Recorder
Download Movavi Screen Recorder and launch the installation file. Follow the onscreen instructions.
Step 2. Customize the Settings
There're many settings you can change before recording. For instance, you can resize the screen area to be captured or set up interactive effects for the cursor. Go to Settings to disable frame blinking during capture, enable sound notifications or capture multiple independent streams. You can even schedule recording if your movie starts at a particular time.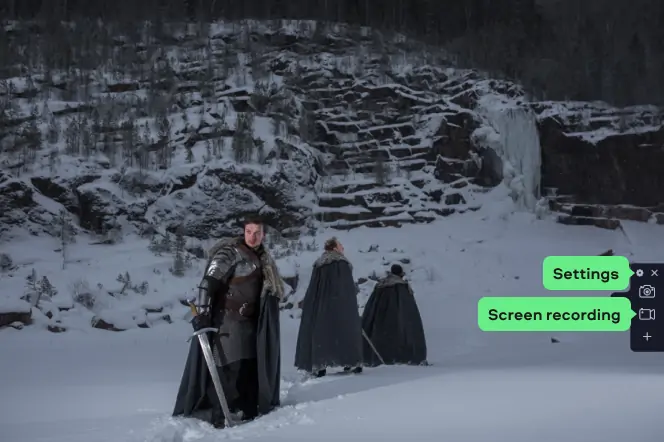 Turn off Webcam and Microphone to keep unnecessary sounds and images out of the video.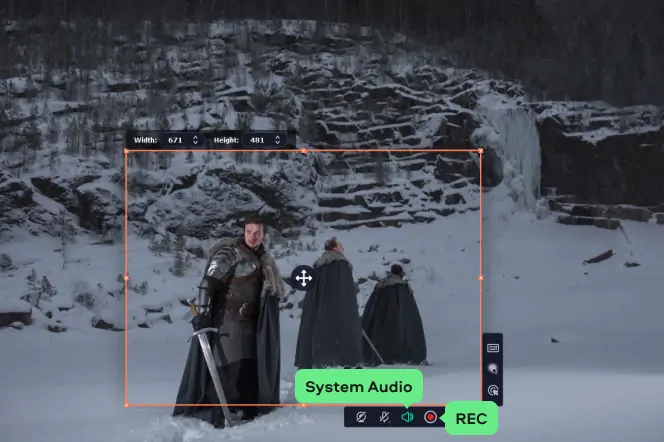 Step 3. Record the Movie and Edit the Result
Hit the REC button to launch the recording process. If you need to take a break, press Pause on the capture panel. You can also use hotkeys: F9 to pause and F10 to stop for Windows; ⌥ ⌘ 1 and ⌥ ⌘ 2 for macOS, respectively.
When the film is over, stop recording.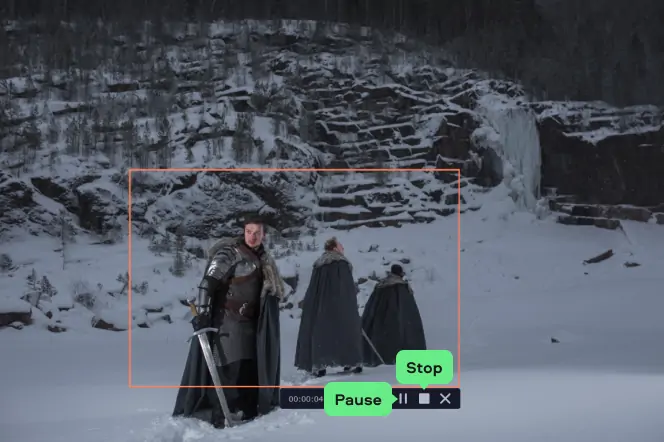 Step 4. Save the Video and Upload It to the Cloud
In the preview window, you can edit the video. This function is useful if you want to cut out closing credits or shorten the beginning of the movie. To do this, use the Cut and Delete buttons.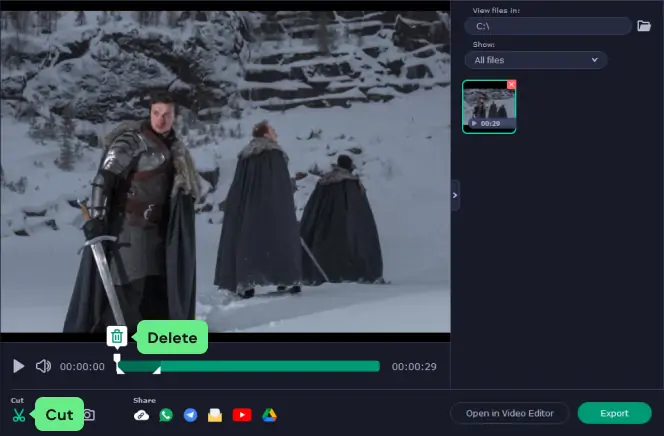 One other great option is to upload the recording to the cloud before you save it. Click an appropriate icon in the Share area. If you need to have the video on your local hard drive, skip sharing and click Export. Choose the format for the recording, name the file and click Save. The movie is now on your hard disk. Enjoy!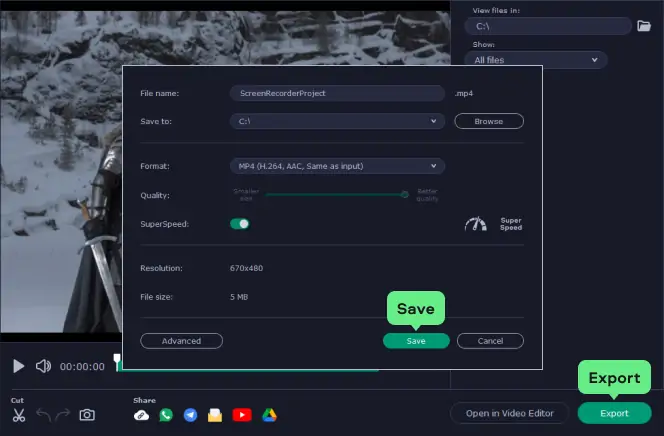 In addition to Movavi Screen Recorder, you can also check out these apps: OBS Studio, the Windows 10 Game Bar feature, and QuickTime Player.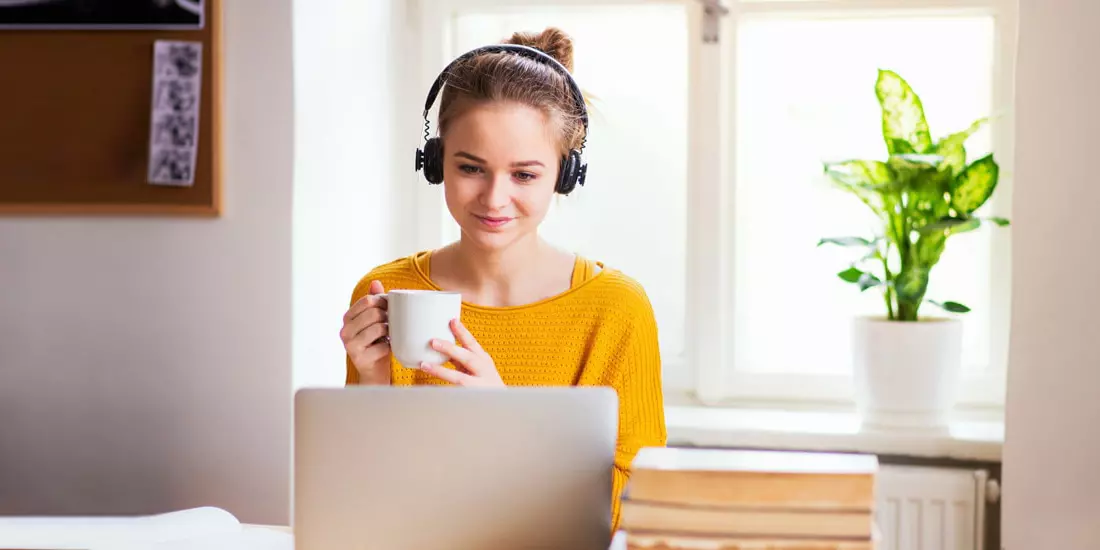 Movavi Screen Recorder
The perfect way to record from your screen
Disclaimer: Please be aware that Movavi Screen Recorder does not allow capture of copy-protected video and audio streams. Learn more
Free Movie Downloader App for PC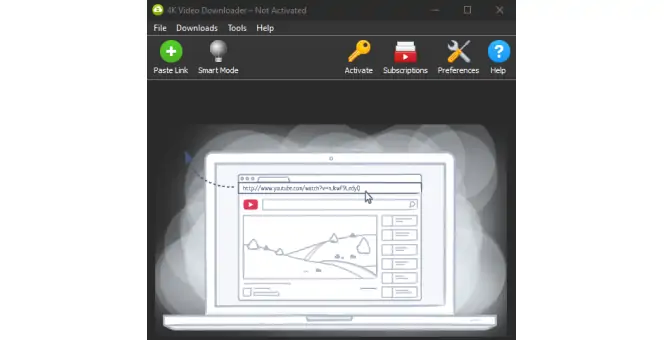 Best for: downloading video and audio from sites like YouTube, Vimeo, DailyMotion, TikTok, SoundCloud, etc.
4K Downloader is arguably the best way to download movies and other content from your favorite video hosting website, be it YouTube, Vimeo, or even Facebook.
As you'll see, the positives of this app far outweigh any of the negatives.
For starters, as the name suggests, you can download movies that are 4K and all the way up to 8K as well as HD 1080p, HD 720p, and any other resolution below that 8K threshold. The formats you can download to include MP4, MP3, MKV, M4A, FLV, 3GP, and more. Along with the video, you're able to extract subtitles in over 50 languages along with it. It's futureproofed in a sense by making it possible to download 3D and 360-degree videos too. And if you only want audio, you can grab just that.
The negatives, which by and large can be overcome with the paid version, are as follows. You're capped at 30 downloads a day and only one download at a time. You cannot download private content and are limited to 5 videos per channel and 10 videos per playlist. The free version is supported by ads, and, lastly, for what it's worth, there isn't a mobile app.
So, how do you use this movie downloader for Windows (which you can download for Mac and Ubuntu too!)?
First, you need to download and install 4K Downloader.

Copy the link of the video from one of their supported sites. Check out the supported sites on the 4K Downloader website.
Open 4K Downloader and click Paste Link in the top left corner.
Choose whether you want the entire video or just to extract the audio portion. You can also choose the format and the quality of your file.
Click Download to start the process.
In addition to this app, you can also check out these options:
To learn about other online URL video downloaders, follow the link below.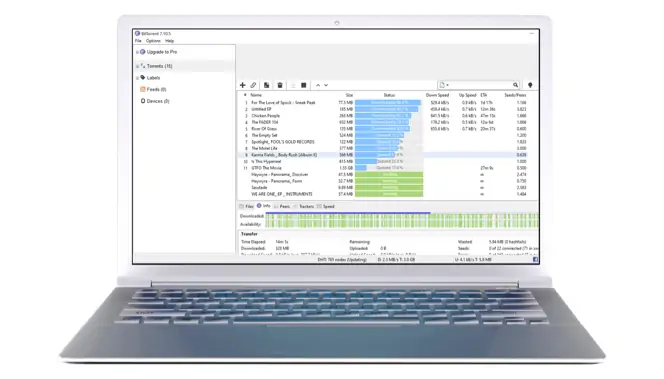 Best for: speed and downloading large files
Among the many ways to download movies to watch offline for free, the one that likely has the worst reputation is torrents. The first thing that pops into many people's minds is that it's essentially stealing films and that it's piracy. While that is the case when downloading a movie you haven't purchased legally, there are legal uses for torrents.
It's important to reiterate that in most countries, downloading copyrighted material that you have not purchased legitimately is illegal, and you can face fines and perhaps even jail time for it. For that reason, it's critical to check what is legal in your country.
That said, if the content you'd like to watch offline wasn't pirated and isn't protected by copyright, you can use a torrent client like BitTorrent to download it, and the pros of doing that are plentiful.
By getting files P2P, or peer-to-peer, you're actually downloading from many people at once and not making a direct download from a single location so a server being down, for example, wouldn't be a big problem for torrents. Owing again to the idea that you're downloading from multiple people, torrents can be faster than direct downloads. With BitTorrent, you can assign priority to speed up your downloads even more and set your download/upload speeds to conserve network resources as needed. Additionally, there are many sources for torrents so finding what you're looking for is more likely.
In terms of the cons of torrents, the main one is that you're at the whim of others, and if no one is "seeding" the file you want, you won't be able to download it. It's also difficult to know that you're really getting what you intended to download until after you download it. Bandwidth usage is high with torrents because you're both download (leeching) and uploading (seeding) at the same time. Since you're also uploading, your IP address is public, so if privacy is a big concern you'd want to use a VPN with this method.
Download BitTorrent – FYI your firewall or antivirus software may block the installation but it is safe to install.

Make sure BitTorrent is exempted from your firewall, it should ask you while installing to create that rule for itself.
Locate the torrent file of the movie to download, ideally one with many seeders.
Open BitTorrent and open the torrent file within it. Wait until the movie is downloaded on your computer.
How to Download Movies on a Computer from the Internet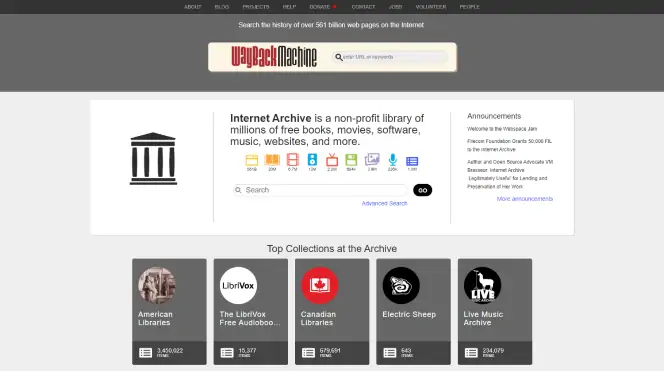 Best for: ensuring your download is legal and finding films in the public domain
Archive.org, or Internet Archive, bills itself as a "non-profit library of millions of free books, movies, software, music, websites, and more," and that couldn't be truer. Since they are 501(c)(3) they're able to provide access to their community/user-generated library for free.
On the positive side, with a moving image archive of over 6.7 million items, there's a tremendous amount of content available to you and often available in many different file types – which you can add to too. Searching the collection is straightforward with the content being broken down to a very granular level with quite specific genres and topics. Downloading is incredibly simple, as we'll detail here shortly, and they diligently remove content that infringes on someone's copyright. On top of being able to download movies on your computer from the Internet via Archive.org, you can play movies right on their website too.
As for the downside of using the Internet Archive, despite the abundance of content it's hard to find recent hits or many modern-day movies and the user interface doesn't feel particularly modern.
The steps to take in order to download your film of choice are as follows.
Open the Archive.org website by following the link below.

Find the movie you want to download and click on it.
Locate the Download Options just below the built-in player. Choose the option that works best for you and right-click it.
Click Save link as and pick the location to save it to. Finally, click Save to download the movie.
How to Download Movies on a Laptop from Streaming Platforms
Best for: convenience, access to popular content, and being confident the downloads are 100% legit
The rise of the streaming platforms has led to an absolute sea change, and seismic shift in how we consume movies and TV shows, and the big players in this space are well known to most: Netflix, Hulu, and Amazon Prime.
There are quite a few pros to this method of download, and there are naturally some platform-specific advantages, but we'll stick to the 30,000-foot view here and highlight the benefits they all share. To begin with, each service has an enormous library of both popular contemporary movies, older films, and TV shows from all of the major networks. Each of the 3 has pricing options at various points to cater to their user's budgets. They're all compatible with and supported on a broad swath of devices. And seeing as how streaming is still sort of in its infancy, you can expect more innovation, functionality, and content-related deals – like streaming rights and direct to streaming releases – in the future.
Regarding the negatives, because of exclusivity agreements, not all content is available on all platforms. Since the libraries are constantly evolving, consider that while new movies are being added, others are being taken away at the same time and, moreover, the content varies depending on which country you live in. Hulu doesn't work outside of the United States at all, for example. Also, this option for download isn't free.
How to download movies on your laptop, or really any other device, with these platforms is a breeze.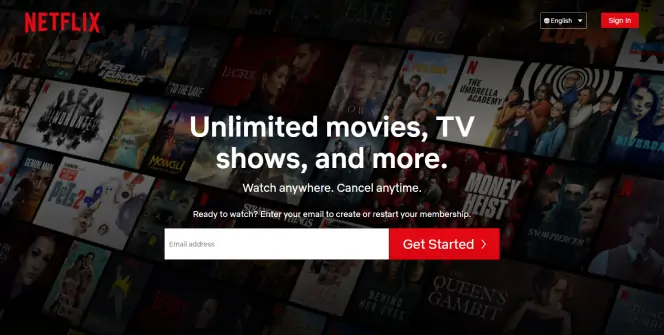 Tap Downloads in your Netflix app. Select Menu if using a Windows 10 device.
Choose See What You Can Download, Find Something to Download, Find More to Download, or Available for Download, depending on what device you're using.
Find the movie or TV show you want to download.
On the description page, tap Download.
Hulu (only for their no-ads subscription plans)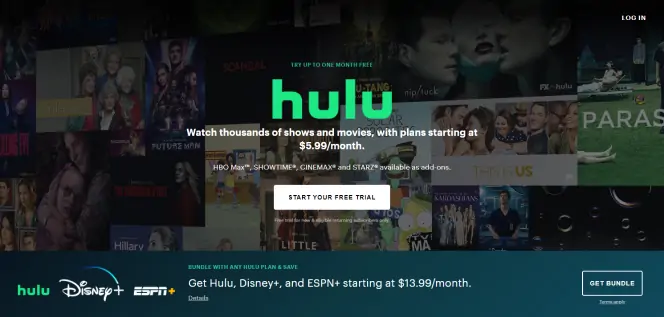 Navigate to Search in the top right corner.
Click Downloadable in the menu.
Find the content you want to download.
For films, click Download on the Details page.
For TV shows, click the Episodes tab to find which ones are downloadable and click Download next to the ones you'd like to watch offline.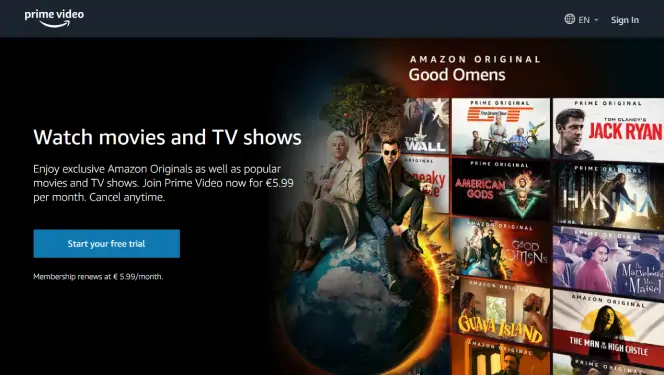 Find the content you want to download.
Click Download or the download icon.
Comparison Table of the Downloading Options
Everyone loves a good movie now and then, be it for date night or a quiet night in and everything in between. From entertainment to escapism to learning something new, it's always nice to have access to films, be they the old classics, the hard-to-find arthouse works, or the newest global mega-hits.
All in all, it's never been easier to watch films offline, and whether you're looking for a free movie downloader app for a laptop, tablet, or mobile, you have lots of options.
Downloading Option

Pros

Cons

Movavi Screen Recorder

Easy to use

Supports a wide range of video formats

Can edit recorded videos

Has multiple sharing options

Saves the recording for multiple devices

Free version has limitations

4K Downloader

Download up to 8k resolution

Extract subtitles in 50+ languages

Can download 3D and 360 videos

Able to grab only audio

No mobile app

30 downloads per day, 1 at a time

The free version has ads
BitTorrent

P2P so not reliant on a single source

Downloads can be faster

A lot of sources to find torrents

Uses more bandwidth

Privacy concerns with IP address being public

Must be aware of legalities in your area

Archive.org

Massive library

Can comb through very specific genres

Diligently remove content that is copyright protected

Search can be confusing

Not many contemporary or recently popular movies

Netflix, Hulu, Amazon Prime

Maximum convenience

Large catalogs with most popular movies

Various price points

Supported on almost any devices

Innovation-minded

Not free

Content catalogs are constantly changing, shows and movies come and go

Not all content is available in all parts of the world
Frequently Asked Questions
Where can I download movies for free?
Can I legally download movies?
Yes, you can! Sites like Archive.org and the streaming services are very much legal ways to download movies. Even torrents can be legal depending on what it is that you download.
Can I download movies to watch offline?
Absolutely! Not only is it possible, but there are quite a few ways to download movies on your PC, Mac, or any other operating system you might have. Whether you use Movavi Screen Recorder, a computer app like 4K Downloader, software like BitTorrent, a site like Archive.org, or any of the popular streaming services like Netflix, Hulu, or Amazon Prime, downloading and watching movies offline is simpler than ever.
Sign up for news and special offers