How to rotate a video on Windows 10: list of easiest tools
It's easy to make mistakes when recording video on handheld devices like phones and cameras and end up with videos that are upside down, at an odd angle, or simply not the right way up. This can be frustrating to deal with, and many people facing this kind of problem want to find out how to rotate a video quickly and easily to resolve the issue.
Fortunately, it's very easy to rotate video on Windows 10, Windows 7, Mac, and other platforms, too, with a simple video rotator. This guide will look at 10 of the best tools you can use for rotating videos and clips.
Comparison of the best video rotators to rotate videos on Windows 10
Software

Advanced features

Download

Movavi Video Editor Plus
Advanced editing
Titles, filters, transitions
Multiple languages
VLC
Media player
Video conversion
Screen recorder
Rip DVDs
Windows Media Player
Media player
Video conversion
Disc burning and ripping
10 easiest video rotation software for Windows to turn clips 90 degrees
If you're looking for a reliable way to change video orientation permanently without losing quality, Movavi Video Editor Plus may be the software for you. Available with a 7-day free trial, this is an advanced video editor tool with a beginner-friendly user interface that anyone can use for rotating and flipping clips. Using this rotation program, you can turn upside-down videos the right side up, rotate videos sideways, reverse video orientation at the click of a button, switch from portrait to landscape, and more.
Pros:
Advanced video editing tools
Lots of different options for rotating and flipping videos
One of the easiest and best-designed user interfaces of any video rotator
Cons:
The free version has some limitations
To learn how to rotate videos with Movavi Video Editor Plus, use the link below to move to the instructions.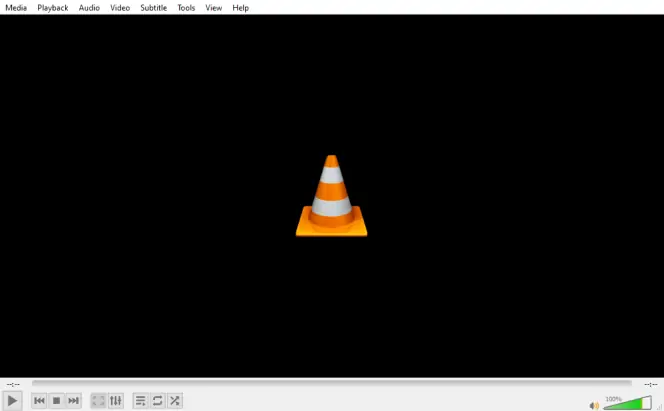 VLC is a popular media player which you can also use to flip, turn, tilt, and rotate videos easily on your computer, laptop, or another device. It's a free and open-source program with a very user-friendly interface, and it has many other features in addition to video rotation, such as video conversion, editing, subtitles, and more. It supports lots of different formats, like MOV files, WMV, and AVI, and it works across all major platforms and operating systems, too, including Android and iOS.
Pros:
Also functions as a media player for playing back your rotated clips
Can be used for video conversions and basic video editing too
Very easy to use with a beginner-friendly layout
Cons:
The user interface may be considered a little outdated by some
The rotation process can be a little complicated at first and requires multiple menu navigations
How to use:
First, you'll need to download and install VLC onto your chosen device.
Open the program and then press Media, then Open File to open the file you want to rotate.
With the clip loaded, press Tools, then Effects and Filters to access VLC's tool and filter menu.
Head to the Adjustments and Effects window, then click on Video Effects and then press Geometry.
From there, you can press the Transform button and choose the options to rotate your video in different ways, such as 90 degrees, 180 degrees, a vertical video to horizontal, etc.
Once you're happy and your video has been rotated, press the Save button to save the new settings.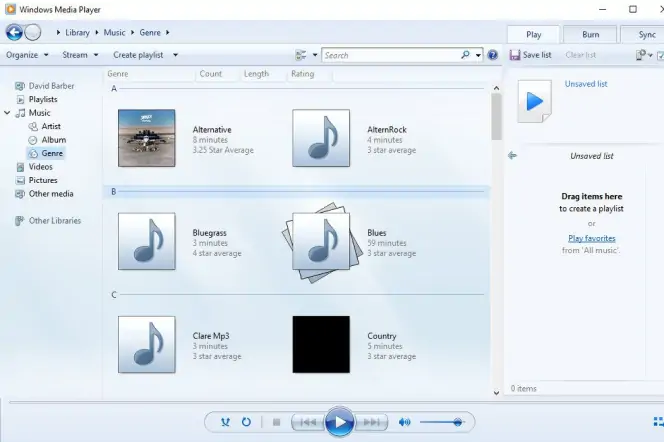 Windows Media Player is another freeware app you can use for rotating videos on a PC. It isn't technically possible to use Windows Media Player itself to rotate videos, but you can use other features of Windows to rotate your clips and then play them in Media Player. This program is automatically installed by default on many Windows devices, so you don't need to worry about downloading and installing it, but it won't work on other platforms or devices like an iPad or Android phone. It's fully free to use and, like VLC, can also be used for playing media.
Pros:
Completely free to use
Beginner-friendly for those with a lack of technical expertise
Can be used for playing media
Cons:
Only works on Windows devices
Doesn't have any kind of built-in rotation option, so you have to use other Windows tools first
How to use:
Press the Start button on your Windows device and find the Photos app.
Open the Photos app and then click on the arrow beside the More tab. Then press Video Editor.
Click on the New Video Project box and then add the video you want to rotate.
Once you've added a video, you can press the rotate button on the right side to rotate it to your desired angle.
You can then press Finish Video to save your clip and open it in Windows Media Player.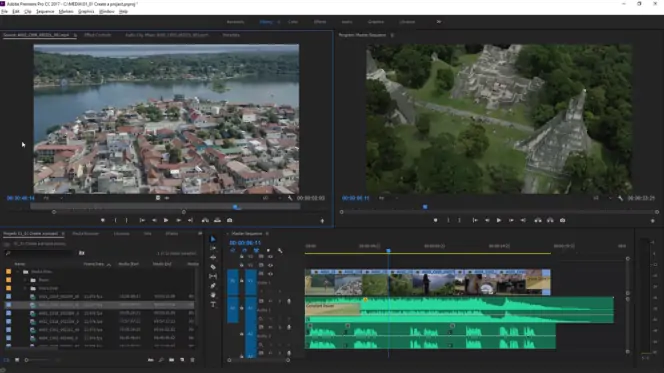 Adobe® Premiere® Pro is another advanced video editor that can be useful for rotating clips you've recorded on handheld devices, like rotating iPhone videos on a PC or flipping smartphone clips on your computer. It's also a fully-featured video editor, so you can use it for many other things like trimming, joining, color correction, enhancements, and other adjustments to fix and improve your recorded video clips. Plus, it works well with other Adobe apps, so if you've already invested in Adobe software, you can use Premiere® Pro together with other programs to make movies and edit your files.
Pros:
Professional-level editing tools
Works seamlessly with other Adobe products
Runs on computers, laptops, and mobile devices too
Cons:
How to use:
Download and install Adobe® Premiere® Pro to your device.
Open the program and add your files.
On the timeline, select the clip you want to rotate and open the Effects Controls panel.
Select Motion and then Rotation. From there, enter the number of degrees you want to rotate your clip.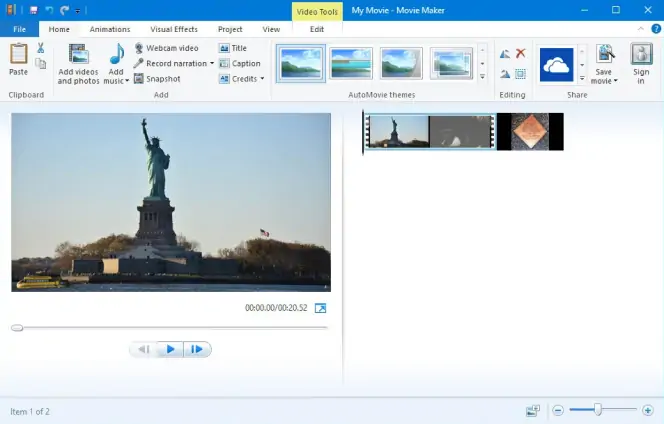 Windows Movie Maker is another tool you can use to rotate and edit videos in different ways. This program was made by Windows and installed by default on Windows devices until it was discontinued in 2017. So you won't find it on newer Windows devices, but if you have an older tablet, PC, or laptop, you should be able to make use of this program to rotate your videos easily and conveniently. It's simple to use and supports lots of popular formats, so you shouldn't have any trouble with Windows Movie Maker for video rotations.
Pros:
Built-in automatically on Windows devices
Can be used for editing and making movies
Beginner-friendly user interface
Cons:
No longer supported by Windows
Outdated software
How to use:
Open the Windows Movie Maker program and press Add Videos and Photos to add the video you want to rotate.
Once your video has been added, select it and head to the Editing section on the Home tab.
Click on the Rotate Left or Rotate Right buttons to adjust your video's orientation.
Press Save Movie to save your rotated video to your device.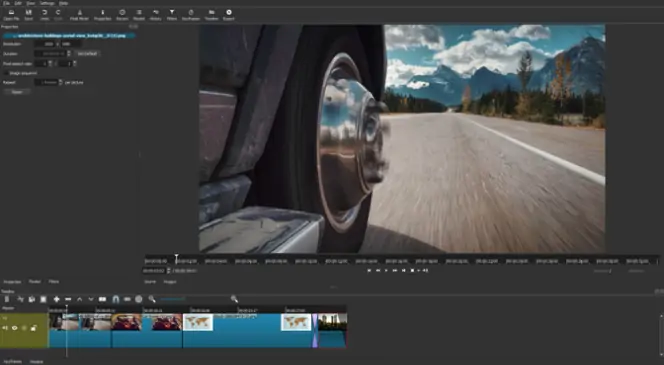 Shotcut is another example of open source freeware you can use for video edits, including video rotations. It's quite an advanced piece of software with a complex user interface, so beginners might be put off, but if you're an intermediate or advanced video editor, you can get a lot of usage out of this app. It supports 4K videos in many different formats and also has a wide range of built-in features like audio editing, webcam capture, transitions, and special effects. Of course, it can also be used to invert, straighten, or rotate videos slightly without the crop at different angles, both clockwise and counter-clockwise.
Pros:
Advanced editing tools and features
A free and open-source program that is regularly updated
Ideal for content creators and advanced editors
Cons:
Not very beginner-friendly
How to use:
Download and install Shotcut.
Open the program and add the video you want to rotate.
Select the rotate filter and rotate your video as desired before saving it to your device.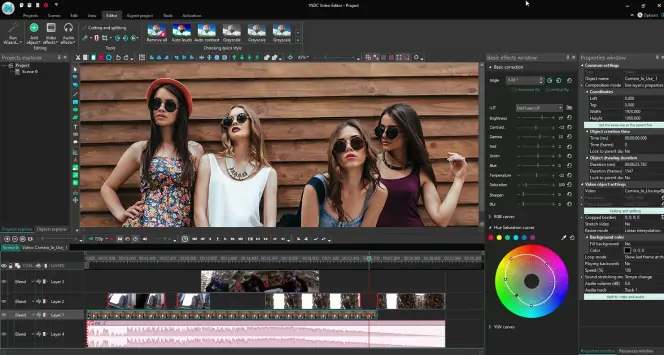 VSDC Free Video Editor is another video editor, flipper, and rotator tool. In fact, it's a fully-featured editor suite that can be used for editing, converting, DVD authoring, and more, so you can use VSDC Free Video Editor for much more than simply rotating videos recorded vertically on your phone's screen. It has a slick, modern interface, lots of advanced features, and easy exports to online social media sites like Facebook and Instagram for content creators.
Pros:
Great for advanced editing
Offers many extra features like conversions and DVD authoring
Free to use
Cons:
Quite a complex user interface
How to use:
Download and set up the program.
Open a video in the program and select it in the timeline.
Click on the Rotate buttons in the Cutting and Splitting tool menu to rotate your video 90 degrees in either direction.
Use the Transforms menu in the Video Effects section if you want to rotate at more specific angles.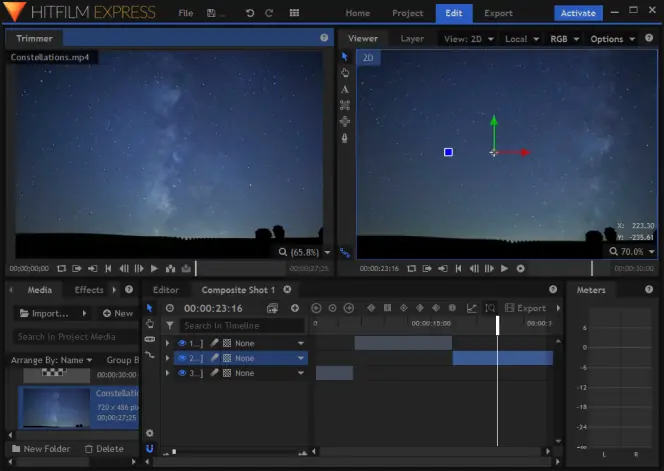 HitFilm Express is a free video editing tool you can use for video rotations. This program is aimed at social media lovers, gamers, and content creators, so it has a very vibrant, user-friendly interface and lots of useful features for editing gaming videos and social media content. It also comes with an add-on store you can use to purchase extra features and functions. Plus, it runs on Mac, so it's a useful iMovie alternative for rotating videos.
Pros:
Well-suited to content creators and gamers
Great user interface and design with easy-to-follow tutorials
Hundreds of effects and presets
Cons:
Many features have to be purchased in the add-on store
How to use:
Download and install. Open the program and open the video you want to rotate.
Head to the Controls panel, then click Transform and select Rotation.
Use the Rotation tool to adjust the angle of your video however you like and then save it.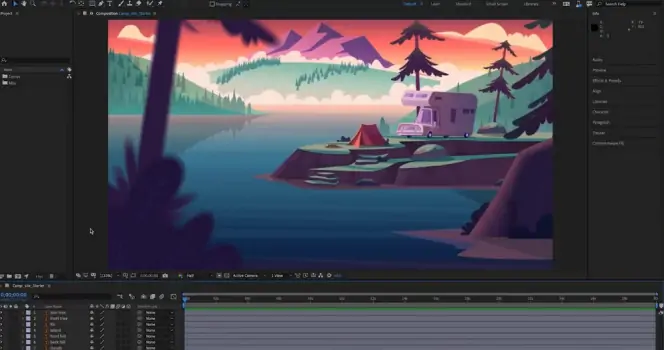 Adobe® After Effects® is a video effects and animations tool you can use to enhance and adjust videos in many ways. It can be used for creating custom animations and special VFX and even works with making VR videos too. So it can handle simple tasks like video rotations very easily, and you can use it with other Adobe products.
Pros:
Works well with other Adobe products
Advanced animations and effects
Ideal for professional-level video creators
Cons:
Quite complex for beginners
High monthly fee
How to use:
Download and install. Click File and New Project, then add your video to the composition platform.
Click the video and hold the mouse button down to drag your video to the timeline. There, you can click on it again and press the R key to add a rotation.
Select the stopwatch symbol beside the video. Change the first number to choose when the video rotates (leave it at 0 if you want an immediate rotation) and change the second number to select the angle of rotation. Then save your video when you're done.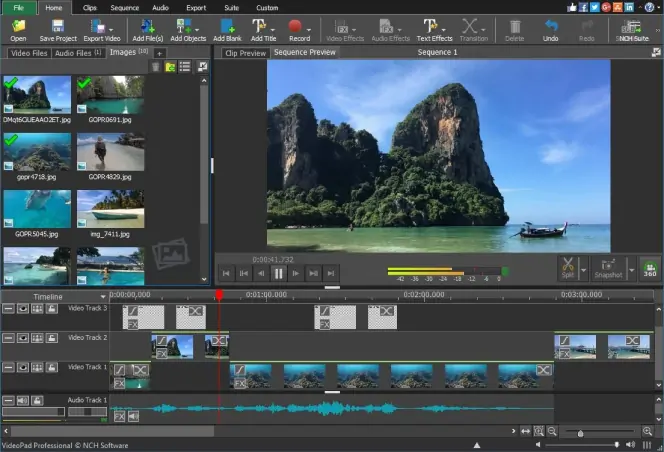 Finally, we have Videopad, another video editing tool you can use for video rotations, as well as video trimming, cropping, enhancing, and more. It offers built-in DVD authoring, social media sharing, VR support, 4K support, device presets, transitions, templates, and special effects, and it's surprisingly easy to use for intermediate and advanced users, but can be a bit tricky for beginners.
Pros:
Pro-level editing
Easy to use for advanced and intermediate users
Supports many formats and resolutions
Cons:
How to use:
Download and install the program.
Open Videopad and add a clip you want to rotate.
Press the Video Effects button and then click Add Effect. Choose Motion and then use the Rotation slider to adjust the rotation of your clip.
How to rotate a video with Movavi Video Editor Plus
Step 1. Install Movavi Video Editor Plus
The first step of using Movavi Video Editor Plus to rotate your videos is to download and install the program from the official site. Follow the installation instructions to get the app all set up in a matter of minutes.
Step 2. Import files for rotation
Once the program has been installed, you can open up Movavi Video Editor Plus on your PC or Mac and then start importing the file or files you want to rotate. To do this, click Add Files. You can also simply drag and drop files from other windows onto the program window. Your files will be added to the Media Bin. Next, drag and drop your videos to the Timeline.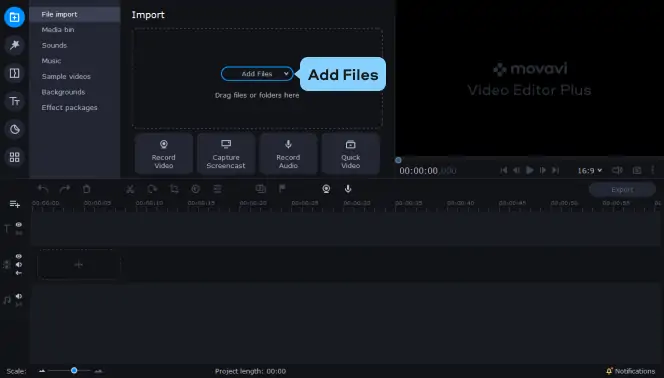 Step 3. Isolate the fragment to be rotated (optional)
It's possible to use Movavi Video Editor Plus to rotate individual segments of video. To do this, choose the video on the timeline, then use the Split function to cut the section you want to rotate. Then, proceed to the rotating.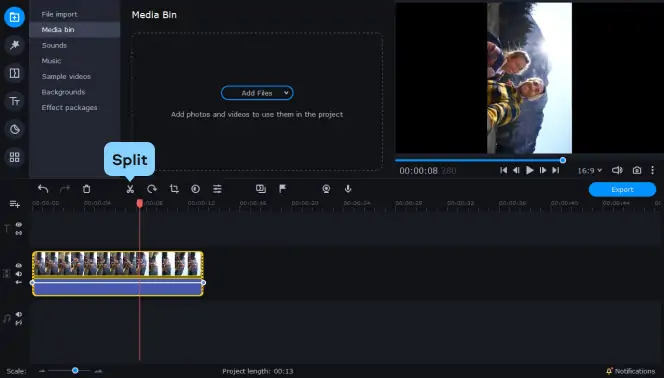 Step 4. Change the video orientation
Next, it's time to rotate your video. To do this, you can click on the video in the timeline and then press the Rotate button to rotate the video 90 degrees clockwise. Repeat this as many times as needed to get the right orientation.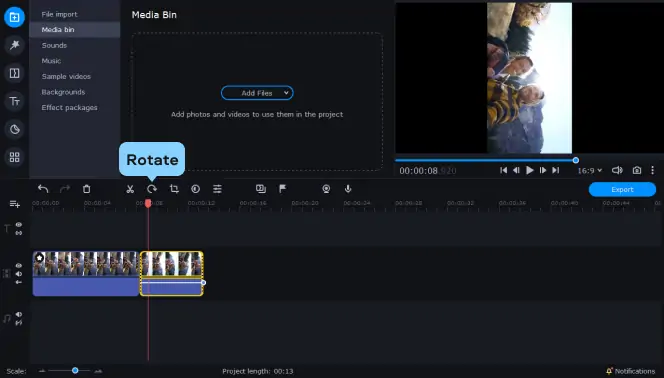 You can also press the Crop and Rotate button and then move the Angle slider for a more specific rotation.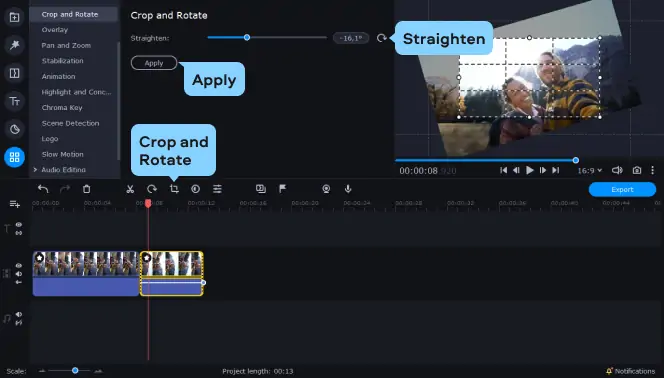 Step 5. Save the rotated video
Once you have rotated your video successfully, you can click the Export button. Press Start to begin the process, and they will automatically be saved to your chosen location.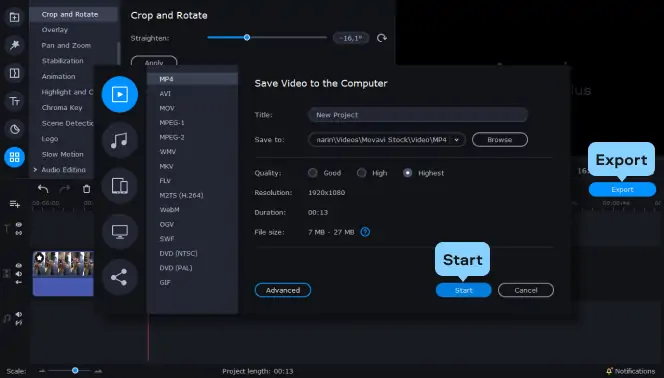 If you want to rotate videos, these are some of the best tools to use. Each one has its pros, cons, and key features, and some of them can be useful for much more than just rotating. We hope our guide has helped you find the right video rotator to meet your needs.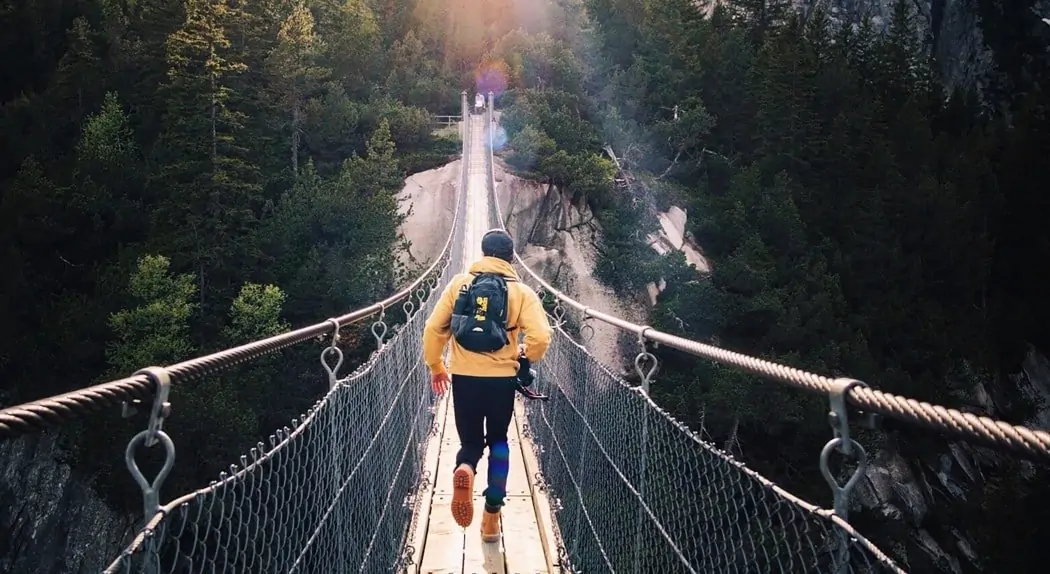 Movavi Video Editor Plus
Make videos. Create. Inspire.
Frequently asked questions
How do I permanently rotate a video online?
If you want to rotate a video online without the need to download and install any programs or apps, you can make use of simple online editor tools such as Ezgif.com.
How do you rotate a video in iMovie on an iPhone?
You can use iMovie to rotate videos in 90-degree increments, both clockwise and anticlockwise. Simply open the app on your iPhone, add the video file or files you want to rotate, and then use your finger and thumb to make a twisting, rotating motion over the image to rotate it however you like. You can repeat this process to rotate your video more.
How do I rotate a .mov file?
To rotate a MOV file, you will need to use a video rotator or editor tool that can support this file format, such as Movavi Video Editor Plus.
How do I rotate a video 180 degrees?
You can use various apps and tools to rotate videos 180 degrees, such as VLC or Movavi Video Editor Plus. The process for each tool varies, but it usually involves just a few simple clicks.
Sign up for news and special offers