How to Record Netflix Videos on PC and Mac
Netflix is one of the world's leading video streaming services, with an impressive library of films, TV shows, and documentaries to suit any taste. All you need to enjoy them is an internet connection.
Until recently, however, Netflix didn't provide a way to save videos to your hard drive so you could watch them offline later. That's now changed, and you can download Netflix content, but there are a few limitations. First of all, not all titles are available for download; secondly, you can download videos to your mobile device only with an official app. So, here's what you're going to need:
- a mobile device running iOS 8.0 / Android 4.4.2 or higher - the latest version of the Netflix app - the ability to stream Netflix in HD on your device (otherwise you'll have to download videos at lower resolution) - a sufficient amount of storage space
That's quite a lot of requirements, right? But what if you have a personal computer and don't want to mess around with mobile devices and applications? The solution is Movavi Screen Recorder! Our video ripper can easily capture Netflix streams and save videos to your desktop computer or laptop without losing any quality.* Just download the PC or Mac version of the program and follow our simple guide to learn how to download Netflix movies.
* If you have problems with recording a Netflix video, try using the latest version of Mozilla Firefox.
Install Movavi Screen Recorder
Open the downloaded file and follow the installation instructions. You'll be able to record any streaming film from Netflix in just a few moments.
Adjust the Capture Settings
Locate the Netflix video you want to rip and launch our video recorder. First, position the capture frame over the video on Netflix: you can draw it manually or click the screen once and choose an appropriate size preset from the Capture Area list on the control panel.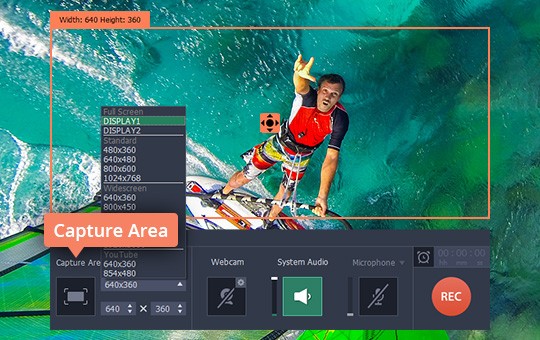 If you don't want to sit in front of the computer and watch the recording process, you can set the capture timer. To do this, click the alarm clock button, specify the duration of the recording, and click OK. Our movie downloader will stop capturing your video once the designated time period is over.
Prepare to Capture the Netflix Video
Click the REC button to start recording. The program will begin ripping your video within 3 seconds, so get ready to play it. Use the Cancel, Pause, and Stop buttons on the program's control panel to manage the capture process. Windows users can press F9 to pause the recording and F10 to finish capturing. Mac users should press ⌥ ⌘ 1 to pause and ⌥ ⌘ 2 to finish capturing. When the recording process is complete, your video will be automatically saved in MKV format and open in the preview window. If you want to convert it to a different format, go to the next step.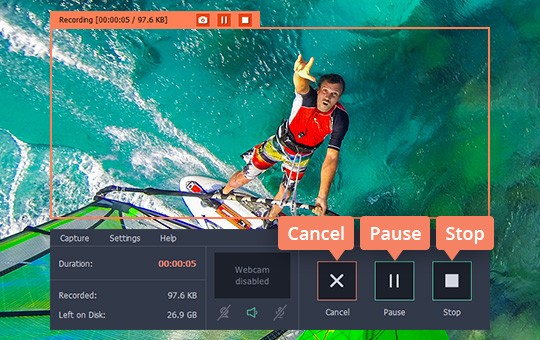 Convert the Recording to the Format You Need (Optional)
In the preview window, click Save As to open the export dialog, where you can choose your desired format. Click Save to start the conversion.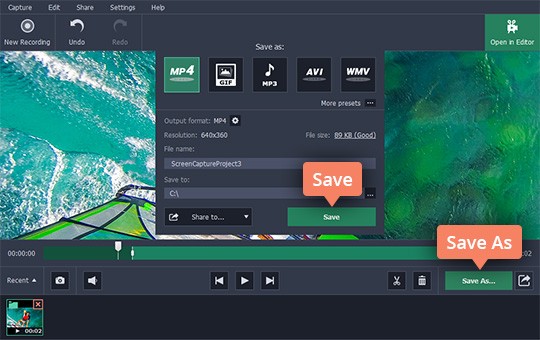 Movavi Screen Recorder is a powerful video grabber that lets you copy anything from your screen. With this program, downloading online videos and saving them for offline viewing will not be a problem any more!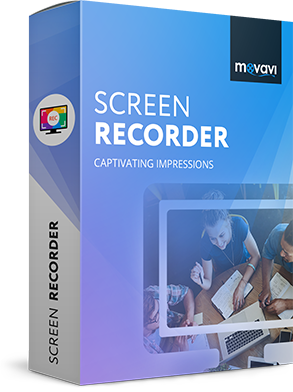 Movavi Screen Recorder
The perfect way to record from your screen
Capture video from your computer screen

Grab sound from multiple sources

Save recordings without quality loss

Export videos in any popular format
Disclaimer: Please be aware that Movavi Screen Recorder does not allow capture of copy-protected video and audio streams.
See Other Useful How-to Guides