How to make a blurry picture clear
Remember how frustrated you felt when you came home after a great concert by your favorite band and realized that half the photos you took were blurred? Maybe the subject was moving, or the camera was shaking, or the light conditions were not that good. Whatever the reason, the damage can seem irreversible. Fortunately, there are ways to correct a blurry picture, and the right photo repair software can help you to make blurred images clearer.
If you're wondering how to make your pictures less blurry, try Movavi Photo Editor! With our simple tool for fixing photos, unblurring becomes an easy task. To learn how to remove blurriness and enhance your pictures, just download the Windows or Mac version of our program and follow the guide below.
Download Photo Editor for WindowsDownload Photo Editor for Mac
Step 1: Install Movavi Photo Editor
Open the downloaded file and follow the installation instructions.
Step 2: Add a Photo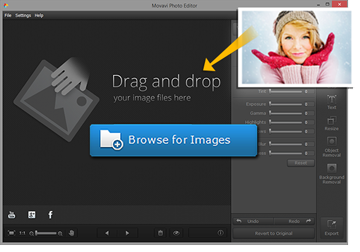 Click the Browse for Images button to choose an image you want to unblur, or simply drag and drop the photo onto the working area of the program.
Step 3: Edit Your Picture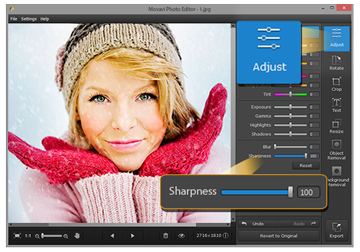 It's time to start clearing your blurry photos. For blur reduction, open the Adjust tab and move the Sharpness slider until it smooths out the fuzziness. Besides sharpening, you can try different types of photo correction: move other sliders in the Adjust tab like Contrast and Brightness to further improve your pics.
Step 4: Save the Corrected Image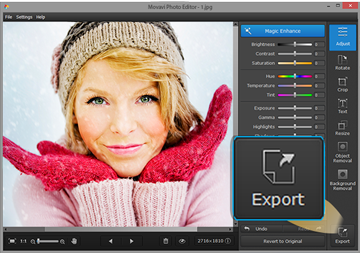 Congratulations, your photos are not blurry anymore! Now all that's left to do is click the Export button to save the photos to the hard drive. Deblurring pictures has never been so easy!
Now you know how to make a blurry picture clear with our photo fixer. Sharpen your pictures with just a few clicks!
See what else Movavi Photo Editor can do for you:
Movavi Photo Editor
Remove unwanted objects
Enhance picture quality automatically
Crop, rotate, and resize images
Use manual color correction
Save to widely used image formats
Download for Windows
Download for Mac
Software Trusted in 150 Countries
Movavi has been developing video processing software since 2004. Our programs are trusted in 150 countries including the US, Japan, and Europe. We guarantee high quality of our software and safety of payments on our website.
Email us
Knowledge Base
Subscribe on YouTube
Watch video tutorials on the Movavi's official channel:
Movavi Official