How to Slow Down a Video
The slow motion effect is widely used in movies and music clips today to add atmosphere to a video and help the director show actions that could easily be missed by the viewer at normal film speed. If you like watching things in slow motion and always wanted to have a video slow downer on your computer, we've got a treat for you. With Movavi Video Editor, you won't need a special slow motion camera to turn your video into a slow-mo masterpiece. Try using our software to make amazing slow motion videos in HD and Ultra HD and see how simple it can be! All you need to do is download the app and read the instructions below.
Our simple guide will quickly teach you how to make a video in slow motion.
Install Movavi Video Editor
Open the installation file and install the slow motion video editor on your computer.
Add Your Video File
Launch the program and click Create project in full feature mode. Click the Add Media Files button and select the file you want to recreate to slow motion. The file will appear on the Timeline in the lower part of the program window.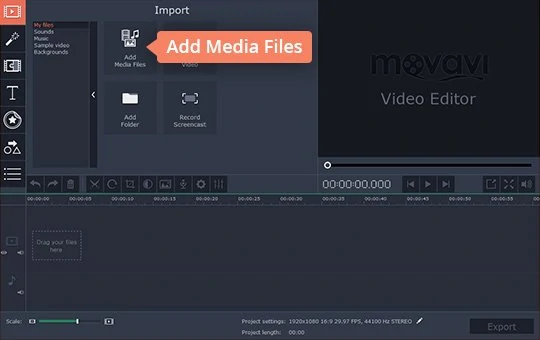 Apply the Slow Motion Effect
After the video is put on the Timeline, click the Clip Properties button and move the Speed slider to the left to reduce the speed of your clip. Experiment with the slider to create super-slow videos.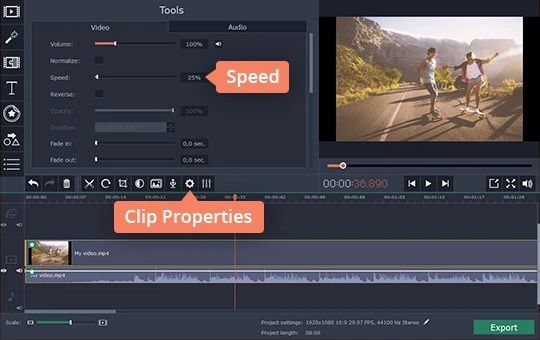 Adjust the Audio Track (Optional)
Play the clip in the preview window in the upper right part of your screen and make sure the audio track sounds the way you want it to. Don't forget that changing the speed of the video track will also change the speed of the audio track. If you want to retain the original speed of the audio, use this trick:
Mute the original audio track by clicking the Mute track icon.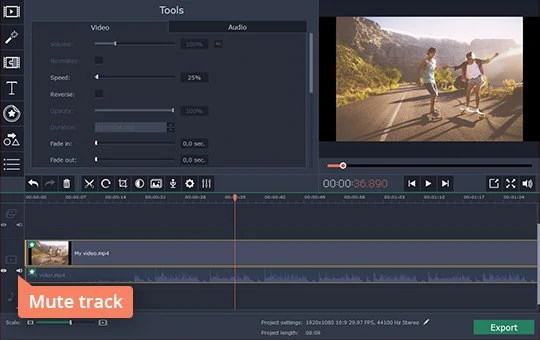 Add the original video to the Timeline again. Click on the audio attached to the video clip, drag it to the Audio Track, and place it under the first video. Then delete the second video you added, as you don't need it any more.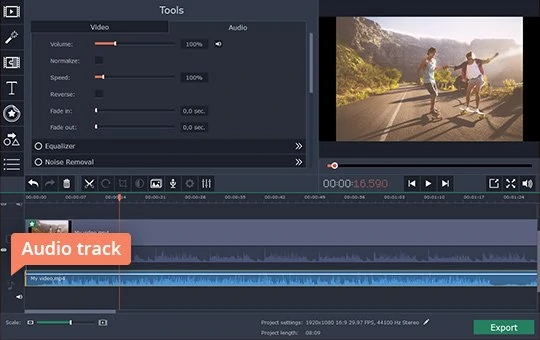 Export the Finished Video
Click the Export button and choose the appropriate tab in the left part of the pop-up window. You can choose to save the video in any popular media format, create a clip to play on your mobile device, or prepare your video for uploading to the Web. Just think about how you want to use your super slow motion video and let our video maker take care of the rest! To convert the video to slow motion, click Start.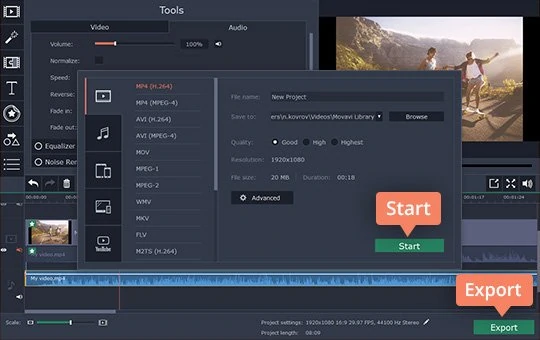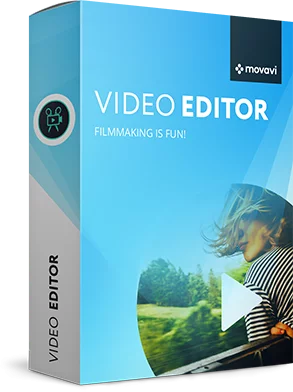 Movavi Video Editor
Creating videos has never been so easy!
Edit video clips, images, and audio on a timeline

Add transitions, filters, titles, and callouts

Use special effects like Chroma Key and Slo Mo

Export videos in any popular format
* The free version of Movavi Video Editor has the following restrictions: 7-day trial period, watermark on the output videos, and, if you're saving a project as an audio file, an ability to save only half the audio length. Learn more
See Other Useful How-to Guides